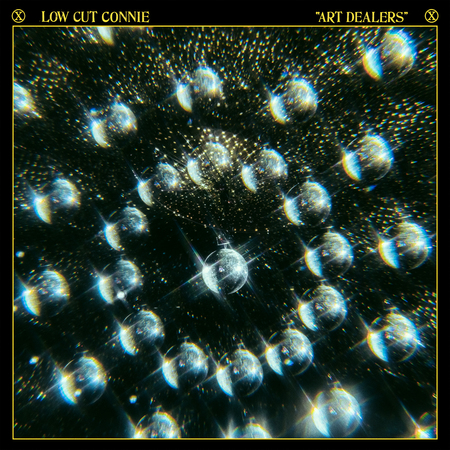 Low Cut Connie
Art Dealers
Missing Piece
Like a lot of people, I found Low Cut Connie and its driving force, lead vocalist-pianist-songwriter Adam Weiner, during the COVID-19 lockdown. Weiner was doing concerts from home to keep busy, and he somehow managed to bring the electricity of a club show to an apartment with just himself, his piano, and guitarist Will Donnelly. That led me to explore the Low Cut Connie back catalog, with some amazing live performances available online. They are a force of nature in a club, revving up a crowd with a raucous rock and roll show. The new album Art Dealers is an evolution of their sound and Weiner's songwriting.
Like their previous work, the backbone of Art Dealers is piano based boogie-woogie rock and roll. Songs like the opening track "Tell Me Something I Don't Know" bear this out with a hard-driving rhythm section and doo-wop style backing vocals. But the range goes on to soulful ballads like "Are You Gonna Run" that could have been a hit for Dan Hartman a few decades ago, and fuzz-rock anthems like "Whips and Chains" and "King of the Jews" that could easily have been singles around the turn of this century.
Weiner also has no problems blurring the sexuality/gender binary, with songs like "Wonderful Boy" with its male subject and "Sleaze Me On" with its refrain of "Treat me like a modern girl." As you listen, you will find the lyrics sticking with you. "All of the glitter in the world is made in a factory in New Jersey off of Exit 9," from "Sleaze Me On." Simple lines like this are peppered throughout Art Dealers.
The question from the record execs used to be, "Where is the single?" But with traditional radio a dinosaur now, I wonder if the new question is "What can go viral?" I can easily see the hooks from a few of these songs becoming TikTok trends as people record themselves over "Mama mama mama, tell me I'm a good for nothing," from "Big Boy" or "If you're living with pain? If you're living in shame? Call out my name," from "Call Out My Name." Hopefully that will get more exposure for the band.
Listening to Low Cut Connie has always reminded me of some of the best bar rock bands from the '80s. As they grow, they don't leave that core behind. But now Weiner is more comfortable incorporating more of his other influences from the '70s. Take equal parts George Thorogood and John Cafferty, mix with a little David Bowie and Lou Reed, and add a dash of Iggy Pop, and you have an idea of what Art Dealers feels like. Take a chance and give a listen.
---