Green Day
with My Chemical Romance
Orlando, FL • April 16, 2005
Jen Cray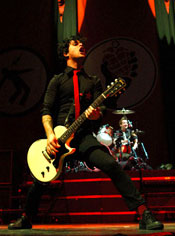 It was 1994 when I first saw Green Day play live. I was 15 years old, and they were out in support of their breakthrough album, Dookie. My friends and I didn't even have tickets, but there we were inside the sold-out gates of The Edge concert field – thanks to the bass player for the opening act who took pity on us. I can remember dirt sticking to our sweat-soaked skin during the Sunday afternoon show, and the smell of pot sweetening the autumn air. Green Day were in the infancy of their mainstream success – their set was sloppy yet inspired – and no one could have predicted that they'd still be around 11 years later, let alone selling out arenas! But here we are in 2005 and I am standing in front of 17,000 screaming fans at the TD Waterhouse Arena in Orlando (less than a mile from where I saw them back then) waiting to photograph the band that helped soundtrack my adolescence.
The median age of the crowd is about 16 years old, it could be the same crowd from '94 except the styles have changed. Back then we were grungy and thrift store chic, today the kids are freshly-scrubbed and clothed in overpriced Hot Topic gear. Back then Green Day sang about masturbation and unstable families, today they're performing a punk rock opera about the socio-economic-political state of the country. Time goes by so fast…

The chosen opening act for this massive tour is My Chemical Romance – a band I'm not sure how to describe. Each member adds a different flavor. Lead singer Gerard Way is Marilyn Manson pasty and Robert Smith mopey, while his brother Mikey (bass) is feminine and quietly emo. The two guitarists… one is goth/punk in style (Frank), while the other is just a straight up rocker (Ray). And then there's the drummer, Bob Bryar, who holds it all together with his harsh, consistent beats. The New Jersey band is of the post-post melodic punk persuasion a la Thursday. Though their set seemed a bit removed, with singer Gerard seeming somewhat nervous to be performing in front of such a huge crowd, they were met with immediate warmth from the audience. This is a band that very soon could be headlining their own major tour.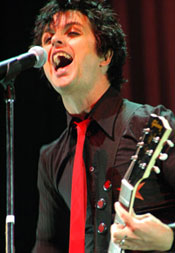 But clearly the hysteria was saved for the headliners who brought the house down right away when they opened the show with the explosive title track off of their multi-platinum current release, American Idiot. From there the band transitioned into "Jesus of Suburbia." For the next 30 minutes we were teased into thinking they would play the rock opera all the way through, until Tre Cool's drum solo at the end of "St. Jimmy" made room for the familiar bass line of "Longview" which burst out of Mike Dirnt's fingertips. I had no idea how nostalgic hearing that song would make me feel, but as I sang along and looked at the crowd pogoing up and down I felt 15 again, and it was great.
That was just the first of a smattering of old songs the band mixed in, which included "She," "Geek Stink Breath," "Basket Case," and Operation Ivy's "Knowledge." It was during the latter song that Billie Joe announced that he wanted to form a band onstage and he needed three volunteers. Quickly three lucky fans became his backup band – learning the song in minutes and having their "15 minutes of fame." This was just one of many instances in which Billie Joe got the crowd to feel like they were part of the show. He was constantly running the length of the stage, and down the center catwalk to be closer to the fans.
A ballad can be a dangerous thing for a show that has built up to such a crescendo, and so their decision to toss in "Wake Me Up When September Ends" was a bold choice. As lighters and cell phones go into the air, swaying in unison, 17,000 people take a breath and reflect. Everyone has those moments when everything is perfect, those snapshots of paradise where the world goes into slow motion. As I looked around at the blue glow of phones in the grandstands I felt tears well in my eyes. It's personal and corny, but it was my moment and I don't think that I was alone in experiencing it.
By the time the encore came around, the performance was reaching the two hour mark. An eclectic mix of "Maria," Queen's "We Are the Champions," and "Good Riddance (Time of Your Life)" were offered up to a crowd that didn't want the night to end.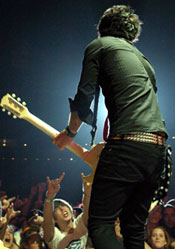 The performance had explosions, pyrotechnics, fancy flashing screens, and the band's name in lights that lowered from the ceiling. It's a giant leap into rockstardom from their punk rock roots of playing dank little clubs, but even in the midst of wealth and success Billie Joe Armstrong, Tre Cool, and Mike Dirnt are still just Green Day . If and when the mainstream attention passes, they'll still be playing to whomever shows up to listen. I suggest you buy tickets now, their shows will sell-out.
Green Day: http://www.greenday.com ◼
---