God Is In The House
Nick Cave and the Bad Seeds
Mute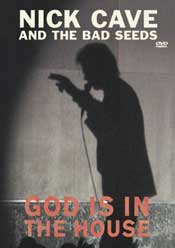 We only wish love could be this beautiful, this glamorous, this dangerous, timeless and exotic – poised and artful, but still spontaneous. Nope, love has changed and dimmed. Now it's either bought and sold with all the cold clinical air of the marketplace or become an altogether more humdrum affair, the stuff of endless trips to Wal-Mart to purchase the right brand of dryer sheets. There is no reason at all to believe that a ragtag group of gentlemen of ill-repute, suited and shadowy, playing a music that whispers of all THOSE dark, immoral places of the heart and soul, could tip the balance. None whatsoever. But they do. And halfway through "Lime Tree Arbour" I'm ready to stop fucking around and hand her a rose, a promise. And then I realize, there's no her.
Cave glowers at the crowd and points disdainfully at them like Chillingworth for what seems like an eternity to begin the yearning "Oh My Lord". Even after all this time his voice still strains to reach the word "time" in every chorus of that wondrous song
Hindsight being 20/20, it looks as though Warren Ellis has supplanted Blixa Bargeld as the resident lunatic of the Bad Seeds; Ellis looking and playing like every stereotype of Beethoven and Mozart, the crazy composers rolled into one, and a stouter Bargeld in a three-piece suit, static and disengaged, seeking refuge behind dark shades and long hair – but it's still thrilling to see Bargeld and Ellis trade lines and double each other's parts. And when Ellis, Bargeld and Harvey go crazy on the noise coda of "Do You Love Me?", it even gives their employer pause as he pushes hair out of his face and turns toward them, his back to the crowd, momentarily just another fan.
There're about ten million Bad Seeds onstage – all looking like praying mantises and/or alternate reality versions of Cave. Warren Ellis is the only person who exudes the same manic presence of Cave, gesturing with his bow, jerkily dancing and bobbing, drenched in sweat. Mick Harvey looks awesome with a blood red dress shirt tucked neatly in to black slacks. He doesn't sweat. Blixa, stage far right, reminds me of Johnny Cash (black three-piece, sunglasses) during his solo vocal turn during "The Weeping Song", but he seems weary, distant, a million miles away. When Cave touches him on the shoulder, he doesn't even turn (or flinch).
"God Is In The House" becomes ever more prophetic with every passing day. It sounds like a lush and melancholic Leonard Cohen piano ballad, but the lyrics drip with the sociopathic bile of Randy Newman or Moses – there are some fabulous close-ups of Cave's sweat-soaked Mount Rushmore of a head. And a gold wedding ring on his left hand. Wickedly funny.
Cave smokes one of an endless procession of cigarettes during the desolate intro to "We Came Along This Road". Harsh stabs of white light penetrate the dark blue of the stage, illuminating the keyboard player's greasy hair, Cave's crisp white shirt, Bargeld's frayed guitar strings, the bass player's quiff… The song has never been more funereal and resigned to eternal separation from love and hence life. Ever perverse, the Seeds then totally let it fucking rip on the black death bar singalong "Papa Won't Leave You Henry" – even this late in the set they're still running on a full tank! The crowd goes mental. Cave kicks and lets loose Birthday Party howls. And after building them up to a lather, the Seeds kill everyone softly with a beautiful take on the melancholy "Hallelujah." The keyboard solo slays me, and the cigarette smoke swirls insinuatingly. That must be what's making my eyes sting.
"The Mercy Seat" is at first played at half speed, resembling a demented country song – building tension through slow build rather than the taut veins of the original. But did I mention that the slow build leads to double the raw nerve white noise of the original? It does. The percussion crashes that punctuate every holy hell shriek of the word "die" – the ending is a thing of beauty – a strangulated "lie," Bargeld finally losing it and the band huddling together as a massed noise choir. Then the whole evening goes dangerously off the rails with menacing and unhinged readings of "Saint Huck" and "Curse of Millhaven". "Huck" is tremendously satisfying as a primal howl undimmed by intervening years. Every bit of feral horror is still there, if not even more with the expanded lineup piling on more jagged edges and more painful punctuation. Cave nails the vocal perfectly and then some. Fuck yes. Everyone becomes snake-hipped all at once. Pure voodoo.
But wait! There's more? Bonus material includes promo videos for:
"As I Sat Sadly By Her Side" – Cave does a weird Johnny Cash/Neil Diamond solo hybrid performance amidst footage of Stalin, KKK, Hitler, and even Thomas Edison's boxing cats! (Give it two million stars for the cats alone!)
"Fifteen Feet" – An impossibly sleazy Bad Seeds performance in an impossibly sleazy Russian club that is only seconds away from being disco porn of the highest order until Jarvis fucking Cocker show up to dance! And, lo, the line dancing commences in earnest. Best video I've ever seen.
The final section is documentary footage of the recording of "No More Shall We Part" at Abbey Road Studios. Great stuff. Peeking into the creative process, every spontaneous and ramshackle bit. It's a long series of disconnected scenes of performing, experimenting, scheming, planning, drinking, mixing, playing with children – verite as hell.
"98 out of 100? I'd better do another one."
Mute Records: http://www.mute.com
---