Autolux
with The Peels
The Social, Orlando, FL • May 21, 2005
Jen Cray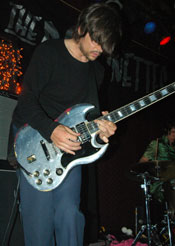 The trio of Autolux are comprised of veteran members of the California "alternative rock" scene of the '90s whose respective bands all broke up around the same time, allowing the entity that is Autolux to formulate. Guitarist Greg Edwards played bass in Failure, vocalist/bassist Eugene Goreshter came from the band Maids of Gravity, and drummer/vocalist Carla Azar hails from Ednaswap. Together they have managed to create a lush sound that evokes My Bloody Valentine and the Jesus and Mary Chain in a less commercial manner than their mainstream competition, Interpol. Currently on tour opening for The Raveonettes, Autolux are proving to have a strong following all their own.
Entering into the dark, smokey confines of The Social, I was just in time to settle in for openers, The Peels. Initially intrigued by the band's '70s rock style (guitarist Lane Rider is the perfect image of Robert Plant circa 1973!) and album artwork, I quickly became bored with the actual sound of the four-piece. The music was dead on, but the vocals just didn't seem to fit. It's not that vocalist Robyn Miller was bad – she just seemed out of her element with the cock rock guitar solos and big beats that backed her.
The dreamy mood evoked by Autolux's sound was enhanced by strategically placed bundles of orange lights that served as pretty much the only source of illumination for their set. Goreshter's soft vocals were underlayed by Azar's powerful drumming and Edwards' Sonic Youth-inspired distortion. The perfect combination of these elements came with the performance of the opening track off of their debut album Future Perfect, a song called "Turnstile Blues."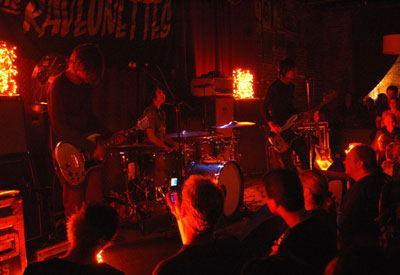 The show was stolen by Greg Edwards and his buffet of effects pedals, which is the base of the band's sound. As his silver SG whined and groaned, the room seemed to spin. The sound bounced off the eager bodies down front (some of whom traveled hours to catch this band's set) and I found myself in a sleepy, half-awake state brought on not by boredom but by utter relaxation. I was so relaxed in fact that I skipped out on headliners, The Raveonettes, and head home for some much needed sleep. The night is a blur, like a dream I've mostly forgotten, but the next morning I found myself popping the band's CD into my car stereo which means I must've had a good time.
Autolux: http://www.autolux.net ◼
---