Cinderella Man
directed by Ron Howard
starring Russell Crowe, Renee Zellweger, Paul Giamatti, Craig Bierko
Universal
Though 2004's Best Picture winner wasn't really a boxing flick, this year's Oscar frontrunner definitely is. Ron Howard's superbly-acted, beautifully filmed, surprisingly low-key summer release, Cinderella Man, just may be Opie's best effort yet.
And that's saying something.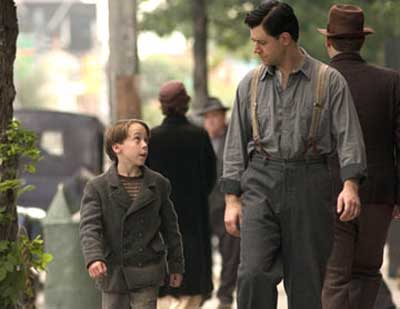 In Cinderella Man, director Howard encapsulates the career of New Jersey legend James J. Braddock (Russell Crowe), a one-time heavyweight contender who went on the comeback trail in hopes of feeding his family during the dark days of the Great Depression.
Cinderella Man begins in 1929, when Braddock is on top of his game, making a comfortable home for wife Mae (Renee Zellwegger) and their three children (Ariel Waller, Patrick Louis and Connor Price) in a middle-class Jersey suburb. Flash forward a few years, and the Braddock family has been reduced to living in a basement slum. Suffering from a string of defeats and a badly broken right hand, Braddock is stripped of his boxing license; he struggles to find work on the docks while Mae maintains a steel backbone at home with the kids. Additionally, the former fighter is semi-estranged from his old friend and manager Joe Gould (Paul Giamatti in yet another incredibly strong performance), who appears to be faring better, financially.
With a measure of willpower as strong as his chin, Braddock refuses to give up hope for his family's future, but Mae is becoming increasingly alarmed at the deterioration of the world around them.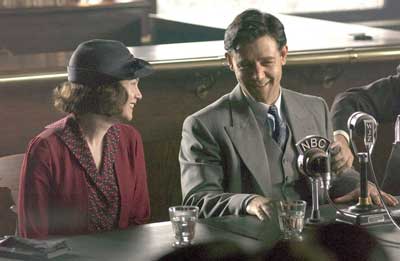 Out of the blue, Gould appears one day with an offer of one more – and last – fight. A top contender is suddenly without an opponent for a Madison Square Garden bout, and Braddock is promised a healthy purse for getting the crap beaten out of him.
Braddock naturally accepts, and, with two days' notice, winds up administering an ass-whupping. The down-and-out pugilist, it seems, has strengthened his once-suspect left hand on the docks, allowing him to unload devastating combinations upon the unsuspecting fighter's noggin. Braddock's longest-shot-imaginable victory makes him an overnight media sensation (famed New York columnist Damon Runyon dubs him "the Cinderella Man"), and Gould, who senses that Braddock has found the eye of the tiger, is back in the boxer's corner for good.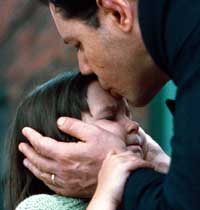 The Pride of Jersey wins another bout, and then another, setting the stage for a showdown with fearsome champion Max Baer (Craig Bierko), who was infamous for having killed two men in the ring. Fearing for his life, no one – not even the swaggering Baer – wants Braddock to step back in the ring; ultimately, the challenger cannot refuse a payday that would set his family firmly back on their feet.
Given their epic nature, audiences are bound to compare Cinderella Man's fight sequences to those in the all-time boxing classic, Raging Bull.
My comparison? Well, Raging Bull was filmed in black and white.
Howard artfully captures all the brutality and nuances of the sweet science – surrounded by the sounds of leather punishing bone and muscle, one can almost smell the sweat, blood and ringside tobacco smoke. During the film's Seattle screening, bunched-up fists on audience members' laps threw tiny jabs and hooks; almost imperceptively, some heads ducked, feinted and rolled with the punches – and the theater erupted in cheers more than once as viewers encouraged the embattled Crowe/Braddock.
Though Cinderella Man is gut-wrenchingly inspirational, it can hardly be called a "Depression-era Rocky." In contrast, Howard's boxing movie shares one attribute with Eastwood's Million Dollar Baby: economy. Not one shot is superfluous or wasted; there are no grandstanding speeches, weepy histrionics, overwrought hand-wringing, trumpeting anthems or Survivor songs. Cinderella Man recounts a simple tale pretty much the way it actually happened, painting an emotion-jarring, moving picture on a backdrop that's all-too-realistically bleak. The true genius behind the film is Howard's decision to focus the first half of the picture on the stoic Braddock family's financial decline into desperation, providing for an emotional see-saw for its audiences and setting up an incredibly suspenseful climax.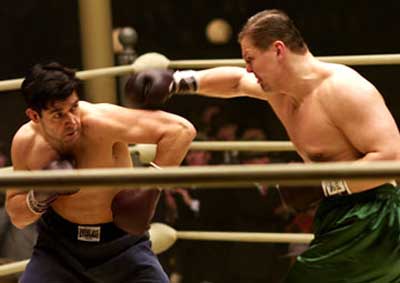 Crowe possesses a taut, subtly powerful onscreen persona the likes of which have not been seen since Steve McQueen's death over twenty years ago. That presence flows through his portrayal of Braddock as a reluctant hero, a supremely humble and gentle family man with an understated, yet nonetheless understood ability to give an adversary second thoughts. However, Cinderella Man's true adversaries – greed and poverty and plain bad luck – cannot be seen to be pummeled; when tears finally well in Braddock's eyes during the film's pivotal scene of shame and frustration, fingers will be fumbling for tissues.
Will the Academy give yet another nod to Howard, and to Crowe? Will Giamatti finally receive the recognition that he deserves? If voters have but a small fraction of the guts and heart that Jim Braddock had, they'll look past Mr. Lucas' admirable moneymaker and do the right thing come Oscar time.
Cinderella Man Movie: http://www.cinderellamanmovie.com/
---