Hot Hot Heat
Orlando, FL • July 13, 2005
Jen Cray
MTV is in its third consecutive year of taping live concerts at Orlando's Hard Rock Live at Universal's Citywalk. If you can brave the crowds of sweaty tourists leaving the Universal Studios parks and find your way to the venue, you can enjoy some cheap entertainment (tickets for most tapings are only $14) and maybe even get your face on TV. This summer's list of shows include Weezer, My Chemical Romance, Franz Ferdinand, and Keane. On this particular night I would be experiencing an evening of teenage trends to the catchy tunes of Hot Hot Heat.

After a local radio DJ did his best to hype up the crowd and the cable channel played HHHs latest hit song in order to get their "excited crowd" shots, the band stepped out. Lit by one long white spotlight, lead singer/keyboardist Steve Bays led the band into the first of many catchy pop songs of the evening. With his big head of curly hair and his youthful energy, Bays easily won the hearts of the crowd. He spent most of his time within hand's reach of the mostly teenage audience, unlike other singer/keyboardists I've seen who seem to plant themselves behind their instrument and hang on for dear life.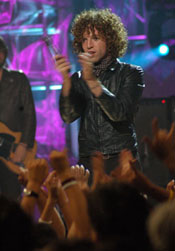 The other band members are not so sociable. With the exception of drummer Paul Hawley, who strikes some interesting faces while he plays, the other half of Hot Hot Heat appear static onstage. They adequately performed their way through a set of mostly songs off of the band's latest release, Elevator, but seemed to be missing that extra bit of spice. Songs like "Running Out of Time," Owe Me an IOU," and crowd favorite "Bandages" fell solely on the shoulders of Bays. His hiccup-ing vocals got pushed further to make up for the band's slack, but with the never-failing encouragement from the crowd to aid him, he never faltered.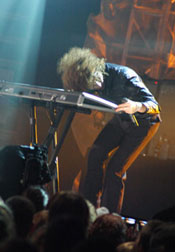 Hot Hot Heat begun their career, to much critical rave, in 1999. They began on Sub Pop Records and have since found mainstream success, a major label home, and much love from MTV. Their success has also resulted in criticisms from the journalists who once called them great. The kind of music they make has not changed, and the spirit of it is still present. When you forget about the cameras, and the giant MTV logo on the stage, what you're left with is a pop band making good music and giving the crowd a good time. That's enough for me.
Hot Hot Heat: http://www.hothotheat.com ◼
---