Acme Novelty Library
by Chris Ware
Pantheon
Spiral-Bound
by Aaron Renier
Top Shelf
It's always a bit of a challenge wading through the piles of homoerotic, spandex-clad heroes in order to discover something worth investing an afternoon and a pocketful of your hard-earned change, down at the local comic shop. Fortunately for you, loyal reader, I have selflessly spent hours reading free comic books, in order to bring you a couple of titles worth your shelf space.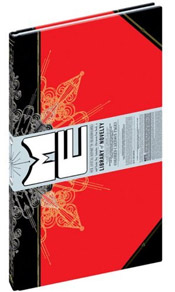 Chris Ware is comics' resident genius. Brilliant, infinitely prolific, and seemingly perpetually depressed – there may be a handful of more celebrated names in the industry, but extremely few have done more to both revolutionize and legitimize the medium than Ware. Released in 2000, his massive (no less than 380 densely detailed pages) book Jimmy Corrigan: The Smartest Kid on Earth did more to demonstrate the full potential of the historically maligned artform than any graphic novel in recent memory (with the arguable exception of Alan Moore and Dave Gibbons' Watchmen).
Drawn from the same series that gave birth to Corrigan, Acme Novelty Library collects 108 pages worth of Ware's characteristically dense and sadly beautiful storylines, but where Jimmy almost exclusively showcased Ware's penchant for the alienation of depressed existentialism, Acme demonstrates the author's ability to be create laugh-out-loud material, though it should be noted for those who have survived on strict diets of Garfield and the Family Circus over the years, even the funny moments contain a generous helping of despair, like the self-effacing "Ruin Your Life: Draw Cartoons," (which includes a characteristically doomed drawing lesson with the caption "Learn how to use a circle template to express the essence of human despair"). Ware's oft-playful if self-conscious nature is always toying with the medium, with various satirical takes on the promotional pages from golden age books (including clip out coupons that entitle their users to "Get 20% More Love From Your Next Intimate Relationship" and "Waiver […] all rights of citizenship of your incubation country, now and forever. In exchange, you will receive, 100% free, an Infinite Detention until we decide otherwise. Bring something to read, so we can take it away"), foldout paper toys and old b&w photography.
The amount of work that Ware pours into a page is always jaw-droppingly exhaustive, refusing to waste a single panel. Or the small print at the end of a page, despite the always microscopic panel and text size that make up the 15.4 x 9.4" pages. Each inch of the book belongs on the walls of an art gallery for permanent display. At $27.50, Acme is undoubtedly a bit steep for a comic book, but like everything Ware has produced, it's an unspeakably essential addition to any graphic novel library.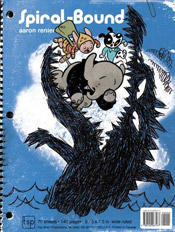 Top Shelf's Spiral-Bound is the first graphic novel-length book from Aaron Reiner, and is a stunning debut. Vibrant and whimsical at every turn, the aptly subtitled Top Secret Summer follows the summer-break adventures of a group of adolescent animals who rather unwittingly stumble upon the largest secret of their small town, but not before going to a couple of local indie rock shows by the wonderfully named Kodiak and Calico (comprised of, fittingly, a caterwauling feline and an accordion-pumping, bespectacled bear, among others), discovering a massive series of underground tunnels and developing a few interspecies summer crushes.
The most remarkable aspect of Renier's world of talking animals is his ability to achieve the daunting and ever-rare dual task of remaining child-friendly without pandering. His pre-teen fauna have a knack for realistic dialogue, maintaining their perpetually cuddly forms, while interacting like honest-to-god preteens (albeit with what would appear to be much better taste in music than most). It's a bit like a younger, hipper Pogo, complete with messenger bags, backwards baseball caps and piercings. Well drawn, fast-paced and inventive at almost every turn, Spiral-Bound is a top-notch debut from an artist sure to make his mark on the medium in the near future.
Pantheon: http://www.randomhouse.com/pantheon/graphicnovels • Top Shelf: http://www.topshelfcomix.com
---