A Journey into the Transcendentalists' New England
by R. Todd Felton
Roaring Forties Press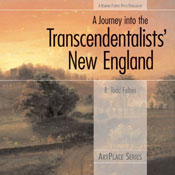 This half-history, half-travel book is a bit like a loaf of bread from Whole Foods – tough and chewy, but ultimately good for you. Transcendentalism represented one of the first full-blown philosophy movements in the new United States. Rejecting the strict Calvinist and Unitarian interpretation of the Bible, Transcendentalists looked to nature as justification of God's existence. Salvation and eternity did not exist because a book said so, but because they spoke to your heart.
Transcendentalist writing ranges from the sublime to the unreadable, and with long New England winters that encouraged reflection, hundred-page critiques of sermons were more popular than one might imagine. The most famous writer is Thoreau with his sermon to simple living, Walden. So many hippies and idealists were moved to live off the land because of this book, but a close reading reveals that after about a year of eating beans and swatting mosquitoes, he moved back into café society. There's idealism, and then there's good plumbing.
The Transcendentalist movement centered on the Boston area, and its members are a Who's Who of American letters – Hawthorn, Alcott, Thoreau, and Emerson are the biggies. Many of the buildings and locations associated with the movement still exist, and Felton's research not only highlights their location but the details of how they came to be and who owned what over the years. His strength is a detailed review of the movement's underpinnings, and while the buildings are secondary to the movement, they are what we can stand in front of and take pictures.
As a travel book, this is a very specialized item. All the locations are within an hour's drive of Logan airport, and all are well known in the standard tourist world. What you get with this book is a detailed background, with names, dates, romances, and impact. When standing in front of another ancient saltbox with a gift shop, this book can make the place come alive. There isn't any of the standard "Where to Eat and Sleep" information, but the area is well-stocked with accommodations.
If you're not planning a historical drive through the Boston area, Transcendentalists' New England makes a fine historical reference for the armchair philosopher or a student in need of a term paper. There are only passing allusions to the reality of suburban Boston sprawl and traffic, and if you can put those out of mind, you're back in 1845, trying to change a world that men are just beginning to understand.
---