The Format
Orlando, FL • July 27, 2006
Jen Cray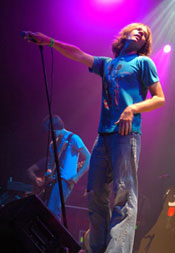 The ambitious sounds of The Format are Pet Sounds-era The Beach Boys for the Fall Out Boy audience. Unorthodox instrumentation, perfectly crafted melodies, and beautiful vocals that have the slightest hint of modern-day emo whine, but not enough to make the over-18 crowd cringe. Yet somehow their show at Orlando's House of Blues is jam packed almost exclusively with teenagers. Let me rephrase that: packed with spoiled, lazy, cell phone obsessing teenagers who actually SIT DOWN throughout the venue, even during the band's headlining set. "Go home and listen to the CD if all you want to do is IM your friends," I want to scream at them all! I later found out that the band had a couple songs featured on teen show Laguna Beach. Good PR for the band, but having an affiliation with any teen drama is pretty much the kiss of death for the quality of the crowd.
Getting past the disappointing audience, the band was joined onstage by opening act, Anathallo, which brought the number of band members up to somewhere around a dozen. A dozen talented bodies playing a dozen instruments in perfect harmony. What could have been an auditory faux pas turned into a strange marriage of Indie Pop songs with Big Band backup horns, and experimental Folk inspired sounds. Again, I'm reminded of The Beach Boys or The Beatles during their later years.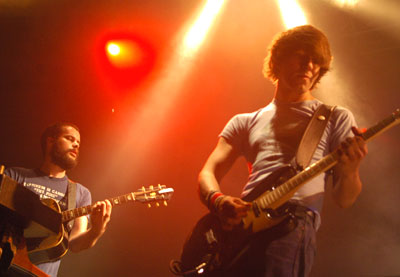 Vocalist Nate Ruess and the man who plays many instruments, Sam Means, make up the core of Arizona's The Format. After releasing a strong debut in 2003 (Interventions and Lullabies) on Elektra/Atlantic, they were later dropped from the large label and courted by several others before ultimately deciding to remain independent. The band's followup, Dog Problems, was just released this past July on their own imprint, The Vanity Label. The buzz about the band has somehow spread even without the help of the big boys' cash, and the CD debuted at #77 on Billboard's Top 200 charts.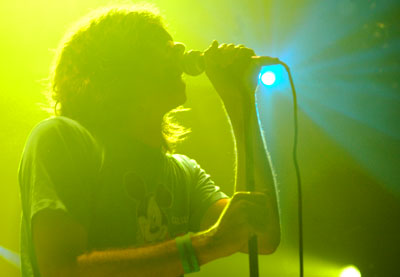 An early show, the band's set wrapped up just past 11 pm but not before offering a well-crafted set that includes such gems as "Time Bomb", and the show-tune inspired title track "Dog Problems," the latter of which is brought to life by the presence of a horn section. In a perfect world, The Format would remain a secret for the out-of-high-school indie listener who could check out their show and not feel like a babysitter. Sadly this is not the case. They are a band to be seen live, but prepare yourself to be made to feel like you're crashing a High School dance.
The Format: http://www.theformat.com ◼
---