Invincible
directed by Ericson Core
starring Mark Wahlberg, Greg Kinnear, Elizabeth Banks
Disney
I was only in grade school, but I remember the mid-1970s very well. Gas shortages, high unemployment, an unbelievable recession. While it was hardly the Great Depression, I recall people reacting to adversity in much the same way my grandparents did. In an age before the Internet and other high-tech forms of instant gratification/diversion, folks had comparably stronger social ties. Friends and family not only provided cheap entertainment, they were leaned on in hard times.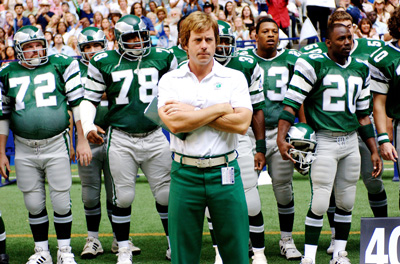 This concept is the real theme of Invincible, an inspirational film about friends and family disguised as a football movie set in 1976.
Mark Wahlberg stars as Vince Papale, a 30-year-old Philadelphia bartender and Eagles season ticketholder who's a sensation in the town's smash-mouth sandlot football league. After he loses his part-time teaching job and his fair-weather wife leaves him, Papale hesitantly attends an open tryout for his beloved Eagles after new coach Dick Vermeil (Greg Kinnear) takes charge of the down-and-out team.
Despite his absolute lack of collegiate experience (and only a year of high school football), Papale's talent and attitude impresses Vermeil, who invites him to training camp. For readers not familiar with professional football, this is akin to a good karaoke singer being asked to open for the Rolling Stones.
The movie follows Papale's efforts to make the team, whose veterans naturally resent him and the media attention Papale draws. The wide receiver spends many of his evenings back at the bar with his lifelong buddies, who are struggling with layoffs and labor strikes. Papale's change-of-luck has quite an uplifting effect on them; also uplifted is a blossoming romance between the local hero and new bartender Janet (Elizabeth Banks).
Director/cinematographer Ericson Core does a fantastic job of conveying the grittiness of 1970s Philly, and he demonstrates a keen eye for the gridiron, as well. The football action is extremely authentic, and Wahlberg's muscular athleticism is a real plus (there were few, if any, stand-ins; Wahlberg actually scrimmaged with pro footballers).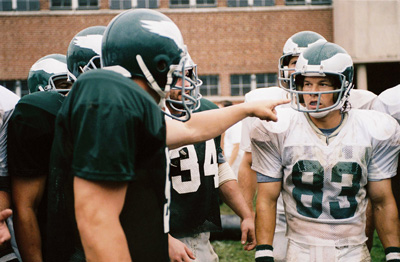 My favorite scene is the team's first pre-season game in Dallas – the inspired camera work and rapid-fire direction really put the audience in Papale's helmet, so to speak. The Cowboys cheerleaders, 50,000 screaming fans, superstars such as "Too Tall" Jones and Roger Staubach warming up across the field – the off-the-streets rookie is literally dizzy, thinking, "How did I get here?"
The filmmakers fudge a few details and omit a couple of key facts (most importantly, Papale had previously played a year in the flash-in-the-pan World Football League, and he was a collegiate track star), but the script stays fairly true to the story, overall. Ironically, this aspect of the movie proves to be its minor Achilles heel, as Vince Papale's story isn't quite as compelling as some other athletes-turned-cinema-heroes.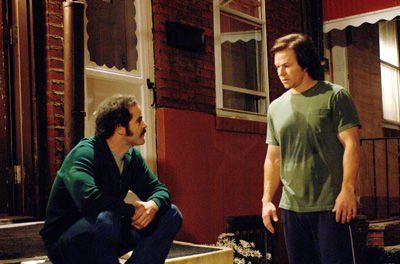 Wahlberg is smaller than the real Papale, but he's no runty Rudy. Papale didn't have a teammate with cancer (Brian's Song), nor was he badly injured in Vietnam (Fighting Back: The Rocky Bleier Story). However, the special teams kamikaze had admirably large stones, and was an incalculable inspiration to the people of Philadelphia during a tough era (they even nicknamed him "Rocky"), and that is enough for me.
At the end of the fourth quarter, Invincible remains a solid, feel-good movie, suitable for a Sunday family outing or a Friday night date. Nothing more, nothing less.
Invincible: http://disney.go.com/disneypictures/invincible/
---