Hollywoodland
directed by Allen Coulter
starring Ben Affleck, Bob Hoskins, Diana Lane, Adrien Brody
Miramax / Focus Feature
There's an old saying, "It's better to have a good script and bad actors than a bad script and good actors." Too bad this nuevo hard-boiled detective potboiler falls into the second category – there's good acting and direction, but this excellent crew struggles against a confusing and overlong script and by the end of the film, not only do you have to pee really bad, but you still have no idea what just happened.

Back in 1959, George Reeves (Affleck) was just coming off a wildly successful TV series starring as the Man of Steel, Superman. For unclear reasons, he committed suicide. Louis Simo (Brody) tries to stir up some sleazy private detective work by convincing Reeves' mom, Lois Smith (Helen Besselo), that it was a murder. Needless to say, there's an evil Hollywood mogul, Eddie Mannix (Hoskins), who wants this kept quiet, partly because his wife Toni Mannix (Lane) was sleeping with Reeves.
Promising, right? Affleck has the looks and savoir faire to pass as a TV superhero, Brody's a goofy and likable detective, Lane looks like the classic fading lonely woman and there's blood all over the walls and ceiling. Too bad the flashback-laden storyline is confusing, there's no concrete answer to the dramatic problem of Reeves' death, and after a while you just wish someone would shoot the entire cast and let you out of the theater.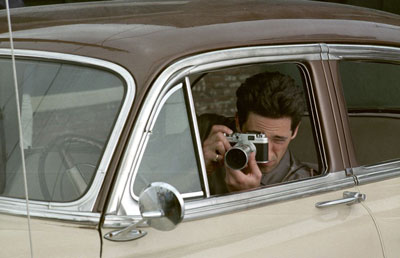 Hard-boiled detectives? Love 'em. Evil movie moguls? Hate 'em. Sleazy LA sex? Gotta have it. Hollywoodland? Stay the hell away.