The Science of Sleep
directed by Michel Gondry
starring Gael García Bernal and Charlotte Gainsbourg
Warner Independent Pictures
Pity the poor French artiste Stéphane (Bernal). He and daddy left Paris for Mexico when he was too young to have all his French installed. Now he's returned to point out his language deficiencies at every chance, annoying his vanishingly small circle of friends endlessly. Mommy stayed behind, morphing into a classic landlady, obsessed with rent payments and selecting well-behaved tenets. Stéphane discovers gangly nextdoor neighbor Stéphanie (Gainsbourg), a woman so French she can drink coffee AND smoke a cigarette at the same instant. Both are blindingly creative in a totally unemployable way, and struggle to get by with dead-end jobs, he gluing advertisng on nudie calendars while she sells art supplies.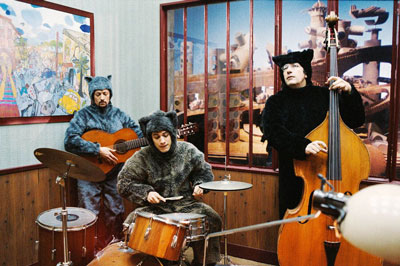 Stéphane can't separate his dreams from real life, and we spend quality time with him in his cardboard TV studio as he manipulates these dreams, which unfailingly collapse when he awakes. The romance with Stéphanie is rocky and incomplete, as Stéphane can't accept she loves him. Instead his vivid fantasies give her non-existent boyfriends and attitudes, making a happy ending pretty much out of the question.
The supporting cast does some nice work, and I really liked Guy (Alain Chabat) as the womanizing coworker full of useless sex advice. Stéphane's other two coworkers, Martine (Aurélia Petit) and Serge (Sacha Bourdo) showed that dead end work is always the path of least resistance, but Martine did invade Stéphane's dreams one night clad only in scraps of cellophane. She looked pretty good for a romantic alternate.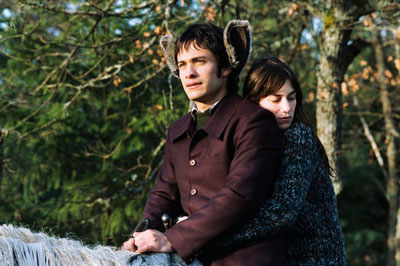 The dream sequences are the heart and soul of this charming love story, with inventive effects done without the crutch of CGI and chroma key. Cotton clouds and cellophane waterfalls are as real to the audience as they are to Stéphane, and there are places where slightly cheesy effects are better than digitally perfect ones. There's a warm intimacy in this dream land of Parisians speaking effortless English, and this might be the ideal date movie if you want to make sure the counterparty is a member of good standing in the Arty Farty Film Fan Club. If they aren't, here's your chance to induct them over a glass of cheap red wine and Galois Straight.
---