Rock En Espanol: The Latin Alternative Rock Explosion
by Ernesto Lechner
Chicago Review Press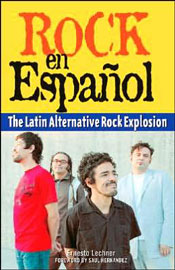 I'm glad Ernesto Lechner was submissive, to his editors that is, when it came to writing Rock En Espanol: The Latin Alternative Rock Explosion.
What we have is more than just a book about Latin alt-rock. It's actually a culturally poignant and timely book, fit not only for south-of-the-border musical awareness but one that could be used as a springboard into current US social and political discussions as well. I don't think it was his initial intention but the music Lechner writes about is packed the same explosive potential.
Lechner is a music writer for the Los Angeles Times, amongst other publications, and over the course of roughly a decade he has documented– at first against his will, he says in the intro– the growing and evolving genre of Latin Alternative Rock music. He admits the music was not as fun and interesting, at first, as listening to the Beatles, U2, Pink Floyd and The Who, but what he did ultimately find was music he couldn't resist. So he wrote a book.
The book resounds with his contagious excitement for the genre but like a good journalist, Lechner rarely shies from asking the important and tough questions of his favorite bands, maintaining balance with a critical eye and astute curiosity. In the first chapter on the Fabulosos Cadillacs he notes during a band photo shoot back in 1998, "how can these two creeps who look like they haven't showered in days be responsible for some of the most astonishing and heartfelt music in the history of Latin American rock?"
To other bands like Manu Chao, Café Tacvba and Atercepalodos, he mixes in questions on their careers thus far, future plans and the current state of the genre and how much of an impact they feel they are having on American alternative music and US Rock 'N Roll. Some artists have much to say and some are just happy with the success in their genre and native countries.
About halfway through the book I realized I had more in common with Lechner than I thought. I had several work-related flashbacks to my days as a waiter and other interactions with Latino immigrants. I thought of the busboys, dishwashers, landscapers and post-carwash buffers/dryers and how Americans secrectly admit the fact that they do the jobs we won't.
Going deeper I thought how as a waiter– back around the same time Lechner was asked to begin his quest circa 1997– I would loathe the trite and often annoying tooting tuba of the regional-Mexican ballad, blaring from the kitchen radio as the cooks slaved over the hot stoves and stood in front of the back-singeing pizza ovens. I remembered having a conversation one time with a cook about what music he liked. He quickly turned off the radio and pulled out a CD player from underneath the counter and popped in a CD. "This is Molotov (one of the 19 Lechner discusses)," he said with big excited eyes, and hit play. I was disinterested at the time and like the younger Lechner too caught up in the rock n' roll of US and UK bands to notice what I was really listening to and how important it was to this cook and his culture.
I wish I would've listened a little more closely but I know that where you're at in your life often influences the type of music that resonates with you at that time.
Ernesto Lechner– in only a couple of hundred pages of easily accessible stories and bios– has begun to open the door to a mostly unknown world of exciting Latino bands, some folded and some still performing and recording, that are just waiting to be truly discovered by a wider American audience.
Is this Latin alt-rock relevant? Well, for starters, it's been filling stadiums and selling out concerts for years in Latin America. It's also influenced American alt-rocker Beck among others and will probably gain significance alongside growing immigration issues. And when fully appreciated in a social/political context it has potential to go beyond the flashy "Livin' La Vida Loca" and the pulsing thump of Reggaeton.
Just this past summer in Chicago at Lollapalooza I saw Manu Chao and his Radio Bemba. I watched the frenzy onstage pour its contagious mix of punk, salsa rebel-rock into mostly American ears, who then went berserk because that's what you do when you hear Chao's music. As Lechner wrote, Chao designs it to incite and stimulate all the senses and he achieved his mission that night by only speaking maybe one song in English. So language can't be the only reason.
As Lechner notes, his collection is by no means complete and I agree. I see this as an entry point to a musical vein that is running step for step with a Latino culture that will be seen as an undeniable force in our county in the very near future, if not already.
Next step? Well, it seems like the this Latin music issue has come full circle for me so I think I'm going to return to that restaurant and find that cook– or one of his amigos– and finish the conversation, now that I'm ready and aware.
---