Poetry in Motion: Peter Bradley Adams
Andrew Ellis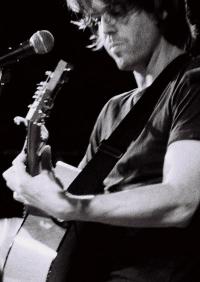 He has a classical music background, uses Langston Hughes' poetry in one of his songs and has spent part of his career as a freelance composer: Peter Bradley Adams is certainly not your typical singer-songwriter. But with his debut solo record Gather Up, Adams has quickly gained a strong foothold in a crowded scene, thanks in no small part to such a diverse pedigree.
Released in August 2006 to great acclaim, Gather Up builds on the platform provided by Adams' former band, the popular modern-folk duo eastmountainsouth, which he fronted with Kat Maslich. Songs like poignant opener "Unreconciled" and the jaunty folk-pop of "Queen of Hearts" demonstrate the quality of Adams' deeply affecting songwriting but also show he is relishing the creative scope that comes with being out on his own.
"It's not like I'm doing anything radically different to what I did with eastmountainsouth, but I am just pushing things a little bit further," the affable Atlanta native admits from the other end of a transatlantic phone line. "Doing it this way gives me a lot more freedom but I am really proud of what eastmountainsouth achieved, and psyched that people still like that record."
eastmountainsouth were signed by legendary industry figure Robbie Robertson, and their self-titled album was produced by Mitchell Froom, and thanks to some sublime harmony vocals and real musical chemistry, the duo quickly gained a loyal audience. Tours with Tracy Chapman and Nelly Furtado followed and their songs were used in 28 TV shows and films such as Elizabethtown – sweet success for a musician who had previously earned his living as a score composer for film and TV.
But Dreamworks, the band's label, was bought out by Universal in October 2003 and they became less of a priority at their new home. So a solo album was a natural progression for Adams, but is he happy with how it has been received?
"The reaction is still coming in," he says. "We put it out in a non-aggressive way, there was no big promotional plug behind it, so I don't really know what the reaction is yet. I am driving all round the country playing to get people to listen to it and it's kind of an unknown time for me, but the reaction that I have got so far has been good."
Even though trying to put an album together independently was a financial struggle in comparison to recording on a major label budget, it's clear that the process of writing, recording and producing the record in his apartment was one that Adams enjoyed immensely.
"Yeah, the string arrangements we did on the album and the process of recording them were really fun," he agrees. "Plus I have a lot of great friends in L.A. who are amazing musicians who came and played on this record. Dave Boucher helped out with some recording, Val McCallum came in to lay down some electric guitar and I had Alexi Murdoch singing with me on 'Chant.'"
"When you start out, it's hard to know what the arc of the record will be. I think that one of the things I learned from Mitchell Froom was that it's good to have interesting hybrid tunes and then some really straight-ahead kind of stuff too. That's happened on this record. Some of it pushes out and some of it is straight ahead."
The world music influences of the hypnotic "Chant" and the clever use of Langston Hughes' poem "Litany" in the verses of the title track bear witness to Adams' intention to write innovative material that expands traditional singer-songwriter boundaries. So how did he get to this point in his career after originally studying for an MA in music from the University of Alabama?
"I think I have just always loved songs," he says. "I have always loved pop music and folk music even as a little kid. My classical training has helped me in terms of arranging and producing – I know what I want musicians to do, and I can write string parts – but I've always thought in terms of songwriting."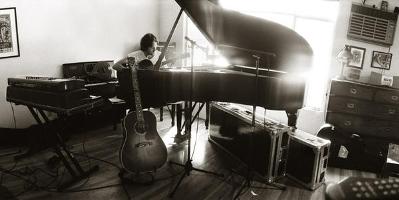 So much so, that while Adams is busy touring on the east and west costs to promote Gather Up and the single "One Foot Down," he is already thinking about a writing a follow-up, and may even soon relocate from L.A. to Nashville to give the next record a different feel. "I need to figure out how to afford to make another record first," he laughs. "But I am thinking about it all the time and would like to have someone else involved. As a producer I'm a control freak, but I'd like to have someone come in to help pull something out of me for the next one."
He adds: "There is a lot of amazing songwriting going on right now in Nashville; not the stuff you hear on country radio, but some really good songs. I am interested in doing some writing with people there who are doing the best of this type of music."
Adams already has collaborations in the works with songwriter Bill Deasy and Nashville producer Lex Price, and although the poetry of Langston Hughes may not feature in his next collection, it's virtually guaranteed that the results will be just as compelling.
Gather Up is available now on bigHelium Records.
---