Modern Masters Volume Nine: Mike Wieringo
by Todd Dezago and Eric Nolen-Weathington
Twomorrows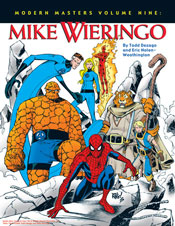 A little soon for Mike Wieringo to be included in the Modern Masters series? Maybe, maybe. But a strong case indeed can be made for the kinetic and fanciful (I mean that in the best way possible) artist behind Tellos, Flash, Superman and a very memorable run on Fantastic Four with Mark Waid. Wieringo deserves kudos for an illustration style that includes elements of classic anime, Fleisher-style superheroics and conjures up a larger-than-life sense of wonder/whimsy where anything can truly happen. He's developed a visual style that's very much his own, not overly in debt to any past giants of the superhero genre.
So even if Wieringo doesn't (yet) have the CV of a Walter Simonson or George Perez, there are still great insights to be gained from his work, and Twomorrows (and Eric Nolen-Weathington) switch the format up a little for this volume by having Todd Dezagoact as lead interviewer – Wieringo's collaborator and co-conspirator in the Tellos series (and a busy comics writer in his own time)! This adds a whole new dynamic to the interview, which now becomes a warmer, more familiar and funnier somewhat-freeform conversation between two (a) friends and (b) artists. What we lose in terms of formal interviewing is more than gained back by Dezago's familiarity and collegiality, which can pull out deeper insights and anecdotes.
Prodded along by good pal Dezago, Weiringo relates the story of a youth spent constantly drawing, informed by his tastes in comics, science fiction and television. (An early favorite was Astro Boy. Hmmmm.) Some of the interactions between Dezago and Weiringo on growing up (geeky) are priceless. After studying Fashion Illustration in art college (where he also became further immersed in anime such as Giant Robo), Wieringo decided to try in earnest to break into the comics industry. His first big breakout moment was a yearlong run on the Flash with Mark Waid, soon to become a frequent collaborator again with FF, and from there to Spiderman where he first worked with Dezago. It's clear they treated their run on Spectacular Spiderman as a total romp through the character's history (with an unspoken agreement to "bring back the fun and fantasy"), and they had a blast doing it, with a bunch of team-ups and obscure villains. With great affection, they recall their creator-owned fantasy title Tellos, birthed from their mutual love of fantasy and easygoing collaborative partnership, outside of the strictures of big superhero properties.
From there to Superman, with the imprimatur to add a more cutting-edge, cartoony style – which he did – and then back to Marvel for his well-regarded run on Fantastic Four with Mark Waid, and we get his reactions to the fan campaign that led to both men being reinstated as the creative team after initially being removed.
The "Storytelling and the Creative Process" chapter is a particular treat and, again, a departure from a general discussion of aesthetics and working methods. Instead, they pick two particular scenes from Tellos and discuss and dissect them in depth, using script notes, rough page breakdowns, sketches and finished layouts – along with running commentary of what each was trying to accomplish with this scene and reflecting on the finished product. Wow. Talk about director's commentary.
This volume features a foreword written by FF compadre Marc Waid and a longer-than-usual gallery section that includes a (first to my knowledge) color insert. The insert features not only unpublished sketches and rough works from titles like Spider-Man but also sees Wieringo trying his hand at everything from flappers, Uncle Sam's Freedom Fighters and Shanna the She-Devil to redesigning Superboy's costume and creating cutesy characters for an online startup. Evidence of a restless mind and a developing talent – the best is yet to come.
Twomorrows: http://www.twomorrows.com
---