Stars of Track & Field
The Hourly Radio
Orlando, Fl • June 3, 2007
Jen Cray
It's never a good sign when the box office at the venue tells you you're not on the list. Things usually slowly fall downhill after that sort of ominous announcement, but it was a gorgeous night and- fate be damned- I was determined to have a good time!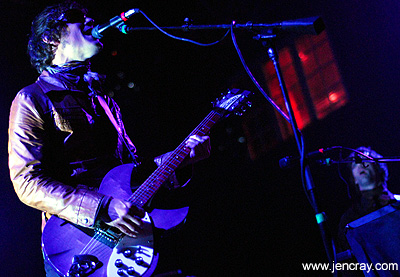 Running into Stars of Track & Field's tour manager, alongside singer/guitarist Kevin Cababla, my luck seemed to be taking a turn for the better.
Not only did these amazingly wonderful human beings get me sorted for my photo pass (Thanks, Joe & Kevin!), but Kevin stripped down to his custom sharpied undershirt that he planned to reveal during the band's set later on. The shirt screamed out "Fuck The Mouse," beneath a rough sketch of Mickey Mouse ears. For those of you unaware, the Orlando House of Blues is located on Disney property, right in the midst of Pleasure Island.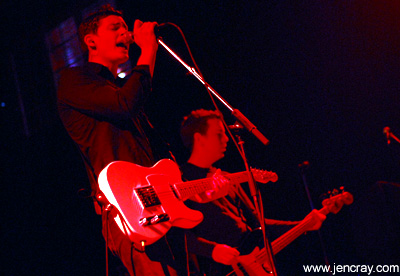 After scoring my exclusive photo, I ran inside to catch the last half of The Hourly Radio's set. As unmemorable as the ten minutes I saw may have been, the Dallas band's Franz Ferdinand/The Killers brand of new wave revivalism seemed to successully set some feet 'a movin' for the crowd who came to see the headliners (not Stars of Track & Field, but Shiny Toy Guns). The only movement I was feeling compelled to execute was that which took me to the bar.
Portland trio Stars of Track & Field (who take their name from a Belle & Sebastian song) sound nothing like they do on their solid debut Centuries Before Love and War,, and as good as that album is the fact that they sound nothing like themselves is actually a compliment. The album is gorgeous in a The Postal Service, Death Cab For Cutie kind of way- which can translate to one boring performance onstage. Instead of staying true to the subtleties of quiet tones, and soft spoken behaviors that sound great on a headset, Stars of T & F use the presence of duel guitarists to their advantage and explode these songs with a hefty case of volume and controlled feedback.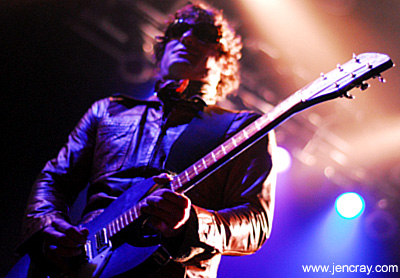 A couple of the album's strongest moments, "Movies of Antarctica" and "Real Time," explode at unexpected moments as Calaba and Jason Bell fornicate with the guitar gods, while drummer Daniel Orvik not only keeps the beat but also handles the computer programming that serves as the replacement to their lost bassist. Their set this time around was even more confident than when I saw them last year open for Greg Dulli's Twilight Singers. Maybe the audience didn't quite get it, but I sure as hell did! I had gotten enough satisfaction to skip out on Shiny Toy Guns a couple songs into their dance rock set.
To see more photos of this show, and others, go to [www.jencray.com](http://www.jencray.com/bands_live.htm).
---