Erasure
Scissors For Lefty
Orlando, Fl • June 8, 2007
Jen Cray
In a celebration of all things shiny and happy, Erasure brought their circus of glitter to Orlando's Hard Rock Live. Their new album (Light at the End of the World) may not have the hits of their classic 80's releases, but that doesn't matter because flamboyant frontman Andy Bell could make silence theatrical and entertaining to watch.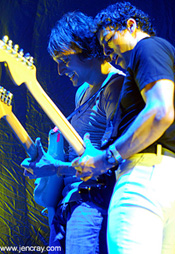 Erasure are a live band, not in the same sense as someone like U2- as they have no instruments onstage, just Vince Clarke and his trusty laptop- but in that their music demands dancing, drinking and all sorts of debauchery. And, let's face it, debauchery is usually more fun in large packs than alone in your bedroom.
Along for the gloriously bumpy ride was San Francisco's Scissors For Lefty. The five young strapping lads were practically tripping over their good fortune at being part of this tour, as frontman Bryan Garza repeatedly gushed about how excited he was to be playing with his "favorite band," and their shameless enthusiasm was one of Scissors For Lefty's greatest assets, for it made them fans, like everyone else. The band has an interesting makeup, consisting of 3 brothers and another pair of brothers, yet their playful antics onstage (including Bryan's de-belting of guitarist bro Robby) obviously play up to their audience of mostly men. A little creepy, yet somehow innocent enough to be excusable as part of the show.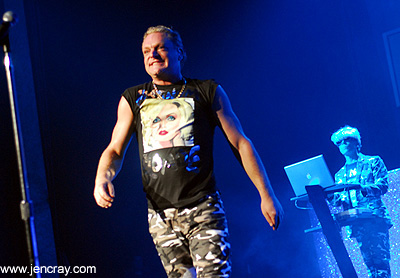 Enough of the homoeroticism (well, maybe not, we haven't even gotten to our colorful headliners yet), on to the music. Scissors For Lefty may have had enough synthesizer action for the afterparty, at local escape The Parliament House, but most surprising to me was that their sound packed a bit of a punch. Dueling guitars, pulsating beats and staccato vocals- they sounded like the gay Strokes, and I was totally digging it!
Raising the curtain on a spectactularly sparkling silver stage, complete with grand staircase and multiple video screens, Erasure opened the night up to all sorts of otherworldy possibilities and the audience welcomed the invitation to extravagance. Joined onstage by three amazing backup singers who were straight out of 60's Motown, Andy and Vince wore matching grey camouflage outfits like some sort of danceclub military unit- though, no miliaty unit I know of has huge portraits of Debbie Harry on the back of their jackets. Ah, if only the Marines knew the glory of Blondie, they'd have put down their guns ages ago.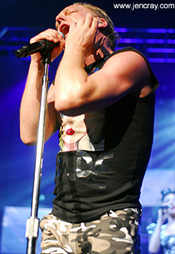 The band played on for nearly two hours, with plenty of costume changes slipped in, and thankfully the set was packed full of classics. "Blue Savannah," and "Drama" were both played very early in the night, with "Chains of Love" and "A Little Respect" tossed out in the middle to keep the crowd dancing. For those of us holding out till the bitter end, we had "Oh l'Amour" and "Chorus" as our prize. Throughout the night Bell hopped around as if the party of 1984 decadence never ended, as Clarke stood steadfast and cool (well, as cool as you can be wearing an Andy Warhol wig) tucked away as the wizard in the back. It's this balance, of introvert and extrovert, that has always set the band apart from their dancehall peers.
My liking for Erasure has been an acquired taste that my girlfriend has been feeding me for over five years now, yet the sweetness must have sunk into my tastebuds by now because not even a bad head cold and a newly broken toe could have kept me from attending my second ever Erasure show this night.
To see more photos of this show, and others, go to [www.jencray.com](http://www.jencray.com/bands_live.htm).
---