Pitchfork Music Festival
Sonic Youth, Yoko Ono, GZA, De La Soul, Battles, Girl Talk, Clipse, Mastadon and many more
Chicago, IL • July 13th-15th
Chris Catania
The strong undercurrent of solidarity that made the 2007 Pitchfork Music Festival an overall success flowed from Union Park's historic vibe of being a nexus for labor groups who gathered to rally for 8-hour work days and better wages. And for the third straight year, indie-rock tastemaker Pitchfork Media summoned the masses (away from their 8-hour jobs for a slice of their wages) and delivered a balanced mix of promising upstarts and legends, rallying indie fans around a crisp sonic snapshot of the past, present and future of independent music. In hindsight, some of the hype was valid but in most cases the seasoned veterans showed the young'uns how it's done.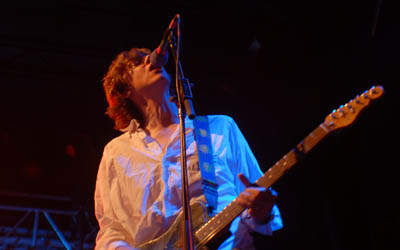 As twilight hues of purple, gold and yellow brush-stroked the Chicago skyscraper skyline, I stood amidst a swelling sea of eager Sonic Youth fans. The unveiling of Sonic Youth's complete– first time ever on U.S. soil– front to back live playing of the landmark album Daydream Nation was quickly approaching. I tried to block out the over-intoxicated and belligerent fans who began shoving and slinging f-you's at each other before Thurston Moore became the focus of the fan fury. As expected, Sonic Youth played a standard-setting set, daring the rest of the acts to try and top them. If you were in the first couple of rows you felt and absorbed every last layer of the transient fuzz but, due to sound issues, those who where in the outer reaches didn't get a chance to fully experience how great the show was.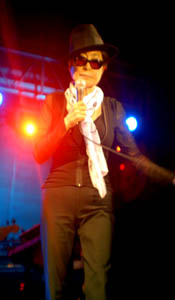 Like Slint (Spiderland)and Sonic Youth (Daydream Nation), who performed their classic album front to back Friday night, the GZA from the Wu Tang Clan performed his Liquid Swords, but was plagued by the reality that sometimes playing an intricately produced album like Liquid Swords live doesn't translate as good as it does when it's just you with a pair of headphones in the cozy confines of your home. I was curious to see if the solo GZA could rip it up but– even if the sound was working the why it should have– the GZA's set was nowhere near as inspiring as Sonic Youth or De La Soul.
Yoko Ono is 74 years old!? I wouldn't have believed this if you told me. She came out screeching and twirling on Saturday night. Before the preceding Clipse set, Yoko mini-flashlights were dispersed along with a performance art-style postcard that included an endearing poem from the revolutionary avant-garde artist. A brief video telling how to use the flashlight to help transmit her "I…LOVE…YOU" Yokochord message to the universe. What followed was one of the weekend's best moments, making it a live concert experience I will never forget.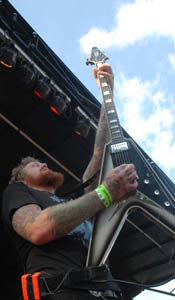 After reading from a few sheets of paper on a music stand that blew away in the wind, Ono burst into the same avante garde screeching which made her stand out among others during the Rolling Stone's 1968 Rock n' Roll Circus. Yes, it sounded strange, this was Yoko Ono after all. And her bizarre orginality was actually what made the show so fun to watch, almost as fun as watching many uptight hipsters (and resentful Beatles fans) try to figure out what exactly was going on onstage. NOTE TO YOUNG MUSICIANS WHO PLAYED PITCHFORK: a 74-year old musician just put on a clinic on how to be completely original AND entertain while defying rock n' roll's mythical age restrictions. Like she did with this year's Yes, I'm a Witch, Ono summoned Thurstan Moore on stage and he laid down sweet sweeping guitar backdrops that enhanced Ono's inspiring version of "War is Over (If You Want it.)"
On Saturday it was all about being gloriously obliterated in a swirling mosh pit of thick dust in the baseball field/crowd area created by math-metal rhythm innovators Battles and primordial thrash metal quartet Mastadon. The tribal rhythms erupted and my assumption that these guys were going to rock my socks off was confirmed. The roar of these two jagarnauts will resonate in my cranium for weeks and that was just what I hoped for.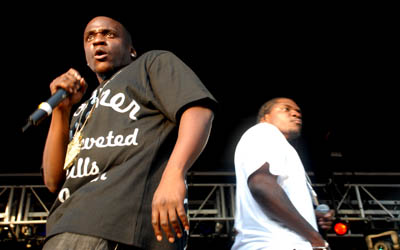 Props to hip-hop duo Clipse for delivering a fiery and charismatic set that was a mix of their recent Hell Hath No Fury and older material, but the hype wasn't warranted as they never came close to matching the non-stop park party that De La Soul put on Sunday night. Old School wins. New School take notes.
Much hyped pop-Top 40 DJ mixer Girl Talk and Chicago hip-hop due Cool Kids laid down their grooves but the undersized street stage (and faulty sound, again) made both sets hard to enjoy. The dance-ready Girl Talk crowd pushed over the fence and spilled over into neighboring street traffic, forcing police to stop traffic from running over indie-rock fans. The following day, another oversized crowd gathered for the Cool Kids, who have developed a following on the strength of their live show since they don't have a proper album yet. I'll have to catch them in the confines of a local club because this outdoor live set was not the best place to really appreciate their talent for crafting witty rhymes that are colored with hilarious pop-culture punchlines and anchored a backing DJ who rocked the crowd via the staple of two turntables and a microphone.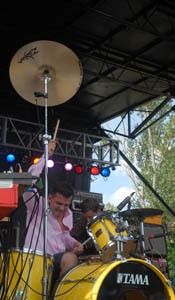 Each day the crowd numbers grew. I smiled as I saw the chilled out vibe merge and co-exist nicely with the desire to get lost in a sea of pumping and bumping stageside sweaty bodies. Some fans where laying on blankets and taking in the music and soaking up the sun while some were reading books, playing four-square, drawing, tossing Frisbees and I actually saw one guy playing chess before The New Pornographers took the stage. Aside from one guy getting cuffed for trying to climb atop the Fuze drink truck to get a better view of Girl Talk or near teenage riot Sonic Youth agitation, the festival was a relaxed and communal atmosphere.
One of the only downsides to the festival was the lag time between sets. While waiting for De La Soul at the Aluminum stage, you could take in The New Pornographers via the video screen or strike up a conversation with the person next to you, which I did sometimes, or wait until the humorous emcees came on stage and rallied the emotions of the over-eager crowd. Maybe next year Pitchfork could hire a local comedy troupe that could perform between sets or come up with something to do other than watch the sound crew set up.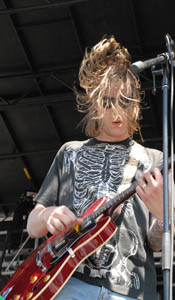 The sound was the wild card of the festival. It either made a set the most amazing experience or it made the set forgettable. You felt bad for hometown bands like the Ponys, Cool Kids and The Sea and Cake who all had to overcome sound system adversities as fans couldn't hear the instruments or vocals. As the weekend progressed, though, Pitchfork knew what was holding the festival back because by De La Soul's set all the sound bugs were gone as I stood in the far back watching the fans (and myself) bounce and groove to classic hip hop and heard every vinyl scratch, emcee cue and minute sample drop.
With 39 bands playing on three stages– which made it possible to experience favorites and parts of new bands– the scale of Pitchfork was just right as the walking wasn't as brutal as Lollapalooza was last year, forcing many a Lolla fan to choose one band or to trek long distances to see half sets. At P-fork, you could just walk around and tune your ear to whatever you wanted to or record shop in the indie-label merch tent or chill out on a blanket and soak up all the indie-rock your soul could absorb.
http:// ◼
---