Riverboat Gamblers
with Valient Thorr, ASG, Totimoshi
Orlando, Fl • Aug. 14, 2007
Jen Cray
The fickle flames of punk rock are burning bright under the combustible piss of Riverboat Gamblers.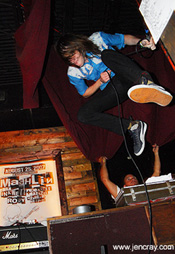 In case you've missed my previous proclamations about this little band from Austin, Texas let me just fill you in real quick: these guys are the best thing to happen to punk rock in the last decade!
They tour incessantly and you keep on missing them! They toured with Rollins Band and X, they toured with Joan Jett, they toured with Against Me! Where were you?! Now that they're hitting all your favorite drinking joints, co-headlining with Valient Thorr (another band worthy of serious praise) on the first annual Volcom Tour you have run out of excuses. Get off your ass and get to the venue in time for their set!
Get there earlier, in fact, because every band on this tour is great. Totimoshi, this threesome from California, are almost an instrumental dirty rock band in that the vocals of guitarist Tony Aguilar are few and far between. The focus of this slyly powerful, metallic punk fusion is the music, not the words, or even the flash of the "show," and that's pretty damn impressive for a band on a bill with bands not only known for their stage antics, but for their singable choruses. Love this band, love 'em!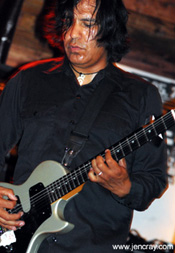 The screamy, grunge-touched ASG were a crowd pleaser. They flew their metal flags high and got the audience prepared for what was to come: the bizarre, extraterrestrial beings that make up Valient Thorr.
This was my first VT experience – I've made attempts to see them three times previously, yet something always thwarted my plans. Let me tell ya, listening to these guys (who hail from the inside of the planet Venus, FYI) on your stereo does NOT do them justice! This is a band to be SEEN. Heavy metal Vikings, raised on punk rock and southern rock, drunk on whatever liquids they can get their hands on. Frontman Valient Himself has got the charisma of a preacher man, and the party man soul of all your favorite indulgent rockstars.
"Turn off the air conditioning – I want to feel the heat of your sweat onstage," he told the crowd after removing his shirt and letting his own sweat drip onto every eager face that leaned onto the stage.
The band can demand for everyone to get naked and fucked up, and then turn around and do a song about soldiers at war ("Exit Strategy") who are long overdue a homecoming. They covered Thin Lizzy and Bad Brains in the same set. How's that for versatility?
After VT's explosive set, a large percentage of the crowd called it a night – missing out on the best 40 minutes that occurred anywhere in Orlando that night!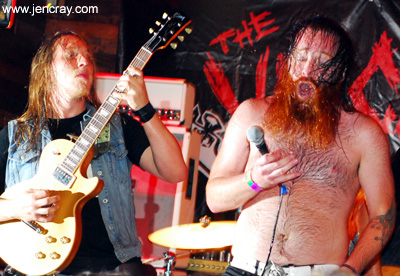 This was my third time seeing Riverboat Gamblers, the first time in a such a small club (and with them as the headliners). Each time I've seen them they have surpassed the last, and this night was no exception.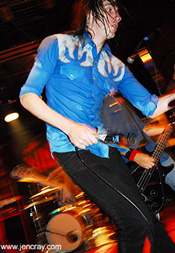 Frontman Mike Weibe has got springs in his shoes and no fear of pain. The tall and lanky fellow climbs anything he can get on during the set. He's in the audience, he's climbing onto the second floor balcony, he's on Valient Himself's shoulders. He even tried to take the show out onto the streets, but his mic chord pulled out.
Yet all of Weibe's antics wouldn't mean shit if the band wasn't just as energetic behind him (they are), or if the songs weren't strong enough to justify such showmanship (and they so very much are). This band does not have a bad song, and moments of punk rock brilliance like "On Again Off Again," "True Crime," and "The Song We Used to Call 'Wasting Time'" sound like instant classics when screamed along with in a tight little sweaty club.
There are bands I enjoy, and then there are bands that I would gladly see play every night of the week. Riverboat Gamblers are one such band.
To see more photos of this show, and others, go to [www.jencray.com](http://www.jencray.com/bands_live.htm).
Volcom Entertainment: http://www.volcoment.com ◼
---