Theo and The Skyscrapers
with L.A. Kings, Static Age
Chicago, IL • August 2nd
Chris Catania
With a vintage punk rock scream and a pre-set gargle of three liquids – PBR, honey and grape juice – Ben, lead singer of Chicago post-punk quartet L.A. Kings, ignited a night of indie-rock rumbling at the Note. The unusual elixir must have been the secret because the moment he grabbed the mic and unleashed his vocal fire I was instantly locked in as the L.A. Kings did what live raw punk rock should do: unashamedly knock you over then pick you up via the same pummeling strength and then leave you wanting more just as the two-minute whip-lashing is finished.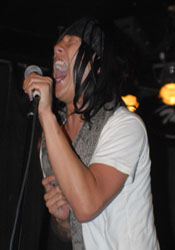 "This one's also about my brother," said Ben as he chugged and swished PBR in his mouth, spraying it out in a mist, baptizing his drummer Luca then egged his band mates with the rapid air-tickle of his fingers and prodded them to push the rhythm harder. Props to Ben for understanding that siblings can inspire and be fodder for furious punk rock just as much as their burning admiration for and to reinterpret post-punk guitar riffing.
After the L. A. Kings finished revving up the night, Static Age took things down a different more melodic rock route until the main course of Theo and the Skyscrapers came on.
Experiencing the current version of Theo and the Skyscrapers, as they tour in support of their newly released So Many Ways to Die, was like descending down into rock's underworld where electronica's snyth-beat has merged with dance rock's kinetic power. Once you're there, it's ex-Lunachicks grrl rocker Theo Kogan, who as a goth-rock lyrical mistress guides you through subterranean caverns filled with sharp and jagged stalactite guitars and over a precisely placed foundation of stalagmite drums, an explosive combination that leaves you no option but to groove and shake your torso, bowing to the tectonic rumble.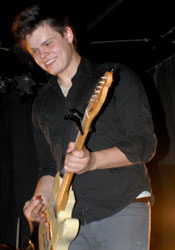 Like the lead character of her brewing song "City of the Witch," Kogan floated from the wings, up the side stairs, and took her place as the night's center piece between her duel Skyscraping team of Chris Kling (drums) and Sean Pierce (electric axe). With my heading almost bobbing off my neck and my ears reaching to truly absorb Kogan's witty lyrics, I soaked up "Good Mourning" and "Tease," the first two tracks from Theo's new album, a diversion from Kogan's previous rriot grrl excursions.
For most of the show Kogan nimbly danced around the stage in jet-black high heels, including a stop to playfully air-scratch a pair of resting turntables in the vacant Note DJ booth (is she thinking about doing a hip hop album next?).
She then showed her wit by tossing in a sly pop culture reference preceding "Jealousy Died," "Rest in piece Anna Nicole Smith and Tammy Faye Baker…who will be next?" Sprinting through nearly every track off So Many Ways, Kogan hit the high notes and the low ones and simultaneously worked the crowd into a frenzy from atop her strobelight raised-box throne, between her two looming Skyscrapers as she poured down a stream of crafty three-minute Goth-rock pop songs.
At several moments during the show, a fog machine poured smoke in from backstage and enveloped Kogan, swirling around the feet of the Skycrapers. Like the clump of shouting females and one seriously entranced pogoer at the foot of the stage, I too wanted more but Theo cut to chase, skipped the usual break and went right into the encore, priming the local crowd for the next three days as Lollapalooza's set to roll in.
But Thursday night it was all Theo and the Skyscrapers who towered over Chicago's underground scene, as they work their way back to their native NYC during their current summer and fall tour.
---