Crowded House
Seattle, WA & Portland, OR • Sept. 1 & 2, 2007
Steve Stav
If Eddie Vedder loves Crowded House, I can't consider myself a sissy for being a fan, can I? You see, Neil Finn's intimate lyrics – enveloped in often-intricate, gorgeous music – have attracted many a female admirer. However, having Eddie at my side, so to speak, certainly bolsters my masculine assertion that Crowded House remains one of the very best rock bands of my generation.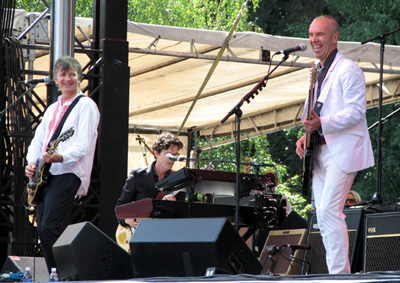 My admiration for Crowded House actually predates the group, going back to Split Enz, the avant-garde New Zealand sensations that more or less spawned them. However, the official start of my distant relationship with Finn, Nick Seymour and Paul Hester coincided with their first appearance at Seattle's Bumbershoot Festival. I had spent the shitty summer of 1987 moping over a breakup with the girl that I was convinced was my "true love." Somewhere in the depths of teen-aged despair, I had become enamored with Crowded House's amazing debut album; my friends conspired to get me out of the house to see the band who had been wearing out my tape deck.
Twenty years later, Crowded House and I were back at Bumbershoot, along with thousands of other people. After calling it quits in 1996, Finn, Nick Seymour and Mark Hart (who became an official member somewhere between Woodface and Together Alone) have miraculously re-formed for a world tour, with a fantastic new CD in tow.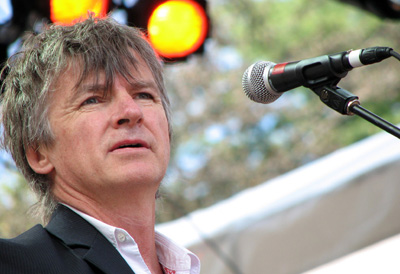 Shaded by the bright sunshine, the band kicked off the legendary festival's opening day with "Distant Sun," from 1993's Together Alone – their last studio album. With precious little time to work with – 75 minutes or so – Crowded House proceeded to effortlessly dish out near-equal portions of their five-album career. The huge crowd, from the diehard fans ("Frenz") to the casual lookey-loos, gobbled them up like candy. From day one, the Down Under wonders have been able to sweep an audience off its feet like few other acts; within minutes, they were playing to a sea of dancing "older folks" and pogo-ing kids. Three beautiful new songs from Time On Earth, "Don't Stop Now," "Say That Again" and "Silent House" were woven into a set that included the Woodface tracks "Fall At Your Feet," "Weather With You" and their early smash, "Don't Dream It's Over."
Apart from some wrinkles here and there, the band hasn't changed much. With his tousled hair and boyish face, Finn is aging much like the Beatle he is often likened to; Seymour resembled the close-cropped Mr. Clean in white slacks and sport jacket. Hart, the ever-serious multi-instrumentalist, was intent on his guitar, keyboards, effects-enhanced pedal steel, melodica and the kitchen sink. Neil's son Liam, well-seasoned after recent years on the road with his dad, hung out in the back. With his full logger's beard, thick mop and acoustic guitar, the younger Finn would be right at home in a turn-of-the-Sixties coffee house.
Of course, there was someone missing. The 2005 suicide of beloved drummer Paul Hester was one of the motivations behind Time On Earth, which is dedicated in his memory. Ex-Beck drummer Matt Sherrod, like Hart an American, was recruited as a full-fledged member for the new album and tour. Wisely, he has chosen not to emulate Hester's jazzy rat-tat-tat approach to the skins; thankfully, Sherrod's heavier swing proved to be a perfect partner for Seymour's distinctive groove. With his mother in the audience, the superb percussionist was all smiles; like his bandmates, he seemed to be having the time of his life.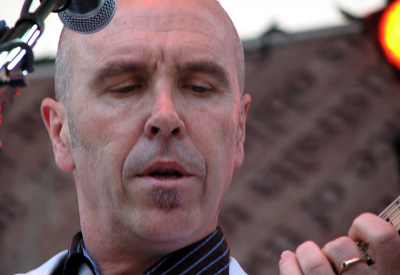 Seattle's adopted son, Mr. Vedder, joined the band for "World Where You Live," but it wasn't until he strapped on an axe for the rollicking "Something So Strong" that the audience began to realize who was standing stage left. Vedder, no stranger to the Crowded House family, said his goodbyes before the band closed the show with the supremely contemplative "Four Seasons In One Day," adding a chorus of their staple, "Better Be Home Soon," for good measure.
The Bumbershoot gig, combined with the following night in Portland, reminded me a bit of a high school reunion. First, the festive, casual warmup – and then the black-tie soiree where one gets really gets down to the business of catching up.
Liam Finn, with a disc of his own to promote, began the night with a short set, followed by Pete Yorn and his fantastic band; their performance was capped by a spot-on cover of the Peter, Bjorn and John gem, "Young Folks," which few in the decidedly non-European audience seemed to recognize.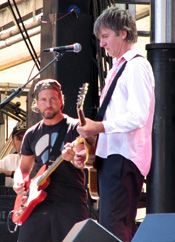 With Seymour's Time On Earth cover art as a backdrop, Crowded House lit up Arlene Schnizter Hall with the wry "There Goes God." As with the day before, the majestic follow-up, "When You Come" (from 1988's Temple of Low Men) and its furious crescendo proved to be a show highlight.
Time On Earth is the band's most introspective effort to date, with songwriter Finn exploring the theme of mortality more fully than ever. That's certainly saying something, as juxtaposing bittersweet lyrics with upbeat tempos has long been his trademark. Therefore, the Steve Lillywhite-produced record is not as instantly accessible as their comparatively brighter early work. However, hearing these gorgeous sounds caressed by the grand hall's ornate confines this night certainly added new dimensions to Finn's compositions.
A standup bass was whisked out for the exquisite nod to McCartney, "You're The Only One To Make Me Cry" – a number that you can bet Sir Paul wishes he had written; the haunting, bouncy "Hole In The River" – an amazing track from their first disc – fit right in between "Distant Sun" and "Silent House."
Paul Hester was not forgotten that night, not by anyone present. For those unfamiliar with the group, he was much more than a drummer relegated to the shadows; besides stellar musicianship, Hester contributed as much to the quartet's spirit and attitude as anyone, and his madcap sense of humor rivaled his bandmates' eccentricities. However, Crowded House made no mention of Hester that weekend, choosing instead to let songs like "Silent House" and "Nobody Wants To" quietly speak volumes. I was particularly glad they performed the latter song, for it seems – at least to me – to directly address the depression that killed their friend.
Such a weighty subject suggests that this night was a somber affair, which couldn't be farther from the truth. Finn and Seymour often had their fans in stitches, continuing their banter and good-natured ribbing from the day before; Finn usually had the last word before Sherrod counted out the next tune. They "upgraded" some seats, giving away empty spots up front. Another old, but never tired routine was to segue into covers: "Don't Dream It's Over" drifted into the Everly Brothers' "All I Have To Do Is Dream," Hot Chocolate's "You Sexy Thing" served as an intro for "Transit Lounge," and Hart came up with forgotten lyrics to Canned Heat's "On The Road Again" in the middle of "Sister Madly."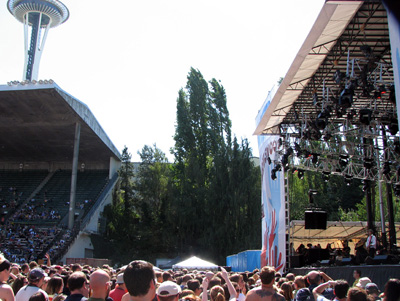 "Magic" is a horribly overused term in concert reviews, but in this case it's the most appropriate one. Two hours after this collective escape into another world began, the band played their country-ballad closer, and I went across the bridge to the Doug Fir for drinks, fabulously rustic atmosphere and reflection. I had good company.
As so many of Finn's lyrics suggest, life is full of twists, turns and bumps in the night that no one can predict. After that first encounter with the band, I was sure they would take the States by storm, the next Beatles; it's just as well that they've had to settle for a bit less, as their souls evidently remain unsold. As for me… well, it seems that girl who left me so despondent twenty Labor Day weekends ago had became fully immersed in Crowded House's record that summer, too. We spent many, many subsequent years missing each other at the group's shows – each of us occasionally wondering about the other's fate. Now, the band is back together, and we finally got to experience their creations hand-in-hand. Our sixth wedding anniversary is just around the corner.
Kismet? Coincidence? All I can say is love is strange, and life is good.
---