Jamie T.
Mystery Jets
Chicago, IL • September 18th
Chris Catania
To start the night I guzzled down a glimmering fifth of UK power pop via the Mystery Jets. The quartet's sticky and pliable layers of astro-synth and amp rumbling reverb was just enough fuzz and buzz to drown out the trio of girls screaming and belting out the their favorite songs at the foot of the stage. All weird groupiedom aside, the melodies swooned as lead singer Blaine Harrison was perched on a stool surrounded by keyboards, a trashcan lid cymbal for percussion purposes and a stage littered with a gazillion effects pedals and twisting wires and plugs; all of it the source and tunnels through which their epic and swirling, spacey funk rock traveled, a perfect melodic contrast set up to Jamie T.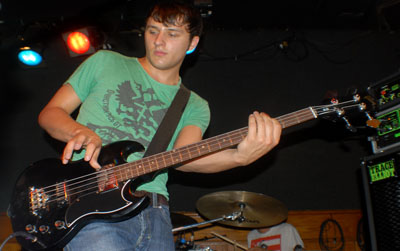 The Jamie T set unofficially started during a conversation with Mark, a Chicago Jamie T fan who clutched and swigged a MGD bottle while sharing some live-show lore with me about seeing the Clash at Chicago's Aragon Theatre back in the day and reminiscing about the mid-seventies Manchester scene before Joy Division and the Hacienda became the centerpieces. A perfect segue because you can't have Jamie T without the Clash or mentioning the Manchester scene of the late 70's and when his bass player turned around and revealed a worn and faded Bad Brains t-shirt I knew yet another great night at Schubas was moments away.
There are many sides to Jamie T and within almost every song he shows the ability to be both subversive and straightforward and mix the wit with the grit as every bit of his charisma comes at you, whether he's thumping his "Brand New Bass Guitar" or going the rap a cappella route to intro or outro a song. He gives you many reasons to buddy up to him and his debut and Mercury Prize-nominated album Panic Prevention shows just how much potential the 21-year old singer songwriter has.

Watching him perform, I couldn't help but think of how adults often stand around in wonder and amazement looking at a child growing up and say, "Wow, he looks just like his dad!" or "Man, I can't believe how much he looks like his mom!" Unless the kid was the result of borrowed seed from the postman then the kid's going to look like his parents and in Jamie T's case sound like the music that's been pumping through his ears since he started filling his head with music (see album cover).
It's obvious that Jamie T loves the Clash, digs American blues and can't get enough of hip hop's freestyling lyrical muscle. The South Londoner has quite the grip on all his influences and is on his way to creating a style all his own. In the span of 90 minutes there was pub rock, punk rock and stripped down rhythm and blues. "Salvador" and "Shelia" made my ears tingle as Jamie T's sly lyrics grew into thick and grimy sonic storybook snapshots of his native surroundings.
Halfway through the set and peering out at the crowd through plumes of cigarette smoke puffed out by his bass player, Jamie T made full use of his raspy crackling croon and boyish swagger during "If You Got the Money" and the dreamy ballad "Calm Down Dearest."
There doesn't seem to be too much wetness behind the ears as Jamie T knows exactly how to take the melodies up and down at all the right moments. And that's the best part of Jaime T's live show; It's a rollercoaster ride where a song might start out soulful or reggae and end up drenched in a flurry of pummeling punk rock.
Caught up in a moment he didn't want to end an overwhelmed fan hoisted his plastic cup of brew above his head and shouted, "This ain't fucking Iowa, it's fucking Chi-town, man and we want you to play all night!"
I think Jamie T would've had no problem whatsoever with that but instead the night ended with a final sprint on the blazing wheels of a new kind of "Rawhide."
---