Rilo Kiley
Grand Ole Party, Art In Manila
House of Blues, Orlando, Fl • Oct. 2, 2007
Jen Cray
I expected Rilo Kiley to be good live, but I was not expecting them to be as good as they were. Then again, Jenny Lewis could sit in a chair and knit a scarf onstage and I'd be entertained (Ms. Lewis, you have made it onto my "freebie list," welcome). Fortunately for the other 2,000 fans inside the House of Blues, she and her band did more than just knit.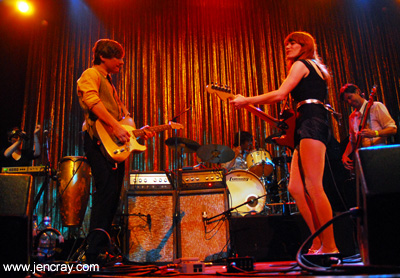 For starters they covered up that ghastly HOB logo at the back of the stage, with a wonderfully retro shiny gold curtain,and they brought along a pair of bands I'd never heard of who won me over in a big big way. I love discovering a great new band that way, when it's completely unexpected!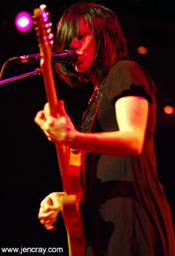 Art In Manila are the post Azure Ray project of vocalist Orenda Fisk, the band's debut disc is on Saddle Creek. While that may just be a bunch of words and names that mean nothing to you, this is still a band you should take a listen to. Backing up Fisk's Cowboy Junkies vocal stylings and bass work are a full band of quiet but steadfast Omaha kids. The resulting songs are dreamy and airy, but not in the yawn-inducing way that a lot of those other Saddle Creek bands can be.
When the curtain parted a second time, the trio Grand Ole Party nailed me against the proverbial wall. What sort of band would you expect with a name like Grand Ole Party? Country? Folk? Americana? Wrong, so wrong! First of all, the singer is the drummer, and it's a girl who looks like Karen O- complete with expressive eye makeup! They're far removed from the Grand Ole Opry (where, I can only assume, they took their name)- imagine Yeah Yeah Yeahs, but more bluesy, less noise. Bad-ass! The song "Nasty Habits" will be a major hit, even if it's only within my own private ipod! I cannot express how great this band is, and the way with which they took control of the audience was impressive. By the end of the set, there was not a quiet set of hands or vocal chords in the place.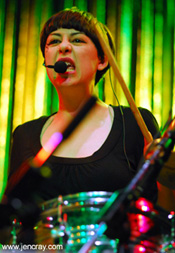 Both Orenda Fisk and Grand Ole Party vocalist Kristin Gundred returned to the stage to aid in backing vocals, and a wide assortment of other instruments (trumpet, congo drums and tambourine among them), for our darling headliners.
Rilo Kiley has gradually become a bit of a cult band, at least in Orlando. Their last time through town they sold out The Social, and packing in the HOB is a pretty big step up from there, and not only do they bring in the bodies- they bring in rabid fans! Fans who scream before the lights even come up on Jenny Lewis' charming smile, fans who practically claw their way overtop of the audience barricade and onto the stage, fans who are near tears as the band kicks into their opening trio of perfect pop songs ("It's a Hit," "Close Call" and "Portions For Foxes").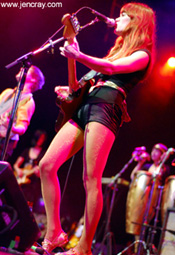 The band's dynamic onstage centers largely around the emotional history of Lewis and guitarist Blake Sennett. If you've missed the dozen or so headlines in the last months, the two had previously dated and like any great band with members who were once together, split up, but then stayed in the band- the romantic tension adds volumes to the band's mythology. From painfully potent lyrics like "Are we breakin' up?/ Is there trouble between you and I?/ Did my heart break enough this time/ Ooh, yeah/ Feels good to be free" (from "Breakin' Up"), to the sweet little shared smiles onstage, or multilayered side glances when one or the other has the full spotlight- part of the band's appeal is in this underlying drama.
…but only part. What saves Rilo Kiley from being just another VH-1 story is that their songs are just getting better from album to album, and the new tunes off of Under the Blacklight sound so damn huge live. I feel as if I'm watching Fleetwood Mac in the era of Rumours. Lewis' silky, sultry voice opens up during "I Never" and her already sexier-than-she-should-be (after all, this is the darling little actress that I remember from movies like Foxfire and Troop Beverly Hills!) aura becomes unparalleled. Her persona onstage is heartbreaking. More heartbreaking is when the band goes into one of Jenny's solo album masterpieces, "Rise Up With Fists." Beautiful, the unexpected symmetry between a band and its singer's solo project.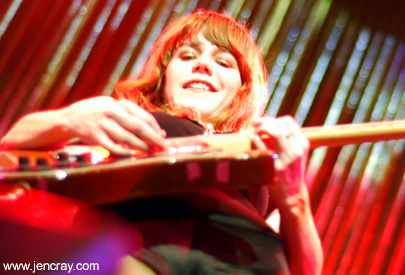 Throughout the 90 minute set, both Lewis and Sennett chat with the audience, and the interaction reaches a new level when- during "Silver Lining"- the band tosses out two oversized clear beach balls filled with gold confetti. The balls evantually bust, showering us all. It was such a simple little moment, not as extreme as a Flaming Lips-like party ball, but still- it, like the band, was perfectly charming.
To see more photos of this show, and others, go to [www.jencray.com](http://www.jencray.com/bands_live.htm)
---