All My Loving
Tony Palmer
Paul McCartney, Ringo Starr, Cream, Pink Floyd, Frank Zappa and The Who
MVD Visual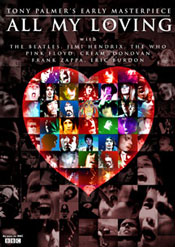 When the BBC broadcast Tony Palmer's groundbreaking rockumentary, All My Loving nearly forty years ago it was intended to blow the minds of its viewers with images and thoughts provided by some of the biggest legends of the British rock scene. Using interview and rare performance clips from that period Palmer tries to crate the aural and visual equivalent of a trip through "a day in the life" of what is lovingly referred to then as "Pop" music. Inexplicably inter-spliced throughout this hippy-dippy trip are images of war atrocities and white supremacist marches that are intended to shock & awesome its viewers and cleanse the palate, as it were, before the next performance clip or interview. I'm assuming that at the time this was to provoke both thought and outrage for the viewers but these confusing images detract from the film overall feel of free expression and hope through new music.
All My Loving was originally aired "after hours" in 1968 on the BBC when the final credits rolled and "God Save the Queen" (not the Sex Pistols version) was played. In the sixties, U.S. stations had a similar ritual when channels signed off for the evening. The buzz created by this radical film opened the floodgates on music documentaries and is considered by many to be the prototype of the genre. Members of the Beatles, The Who, Cream, Donovan, Frank Zappa, Eric Burdon and Pink Floyd and others opine away about their remembrances of or intended impact on this new vehicle called popular music. When taking on some criticism regarding the banality of the day's music when compared to classical music of the past, Paul McCartney defends his band, himself and his generation by stating that Beethoven and other classical musicians were merely playing the "popular music" of their time which is exactly what The Beatles were doing then. "Pop music is the classical music of now" and some forty years later Paul's statement holds true as The Beatles music can be found in constant rotation on every "classic rock" station format all over the world.
The extras included here are an extensive interview with Tony Palmer which I found vastly more informative and entertaining than the film itself. He describes in detail his chance meeting with John Lennon and how that in turn lead to the film being made some three years later. Also included as an extra, is a brief collection of rock cartoons by famed artist Ralph Steadman. They are an interesting artifact but one that doesn't really have any connection to the film other than the fact that some of Steadman's subjects had been featured in the movie as well.
MVD Visual: http://mvdb2b.com
---