She Wants Revenge
The Start, Kenna
The Club @ Firestone Orlando, FL • October 30th, 2007
RJ Bowen
Just who is she and why does she want revenge? I had pondered this intermittently since I'd tuned into the David Letterman show by chance one night back in May 2006 and witnessed the band She Wants Revenge performing their now well-known hit "Tear You Apart".
Standing in the rain outside of Orlando's Club at Firestone on October 30th, I pondered this even more, waiting for a glitch with the photo list to be worked out. Was it I who wanted revenge? No, I just wanted to get inside to see the band I was there to review. Annoyed, I huddled alongside my husband who was frantically shielding his digital Nikon with a Ziploc baggie while some dude at the door (who, incidentally, looked like he'd been jacked up and forced against his will to wear Linus from Peanuts' too-tight striped 60's shirt), told us to wait some more while he checked it out. Thankfully, the band's tour manager soon ushered us in with heartfelt apologies for the mix-up.
Once inside and placated by a strong drink, I surveyed the crowded venue; wall to wall pleather-corset and stiletto clad girls with boys in jeans, their eyes caked with thick black eyeliner, in tow. Possibly, they were aware (but probably not) that they were reenacting the very same scenes common to Depeche Mode and The Cure concerts back right around the time they were born.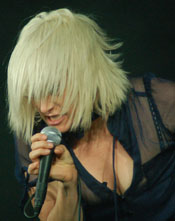 Soon, a punky blond pixie named Aimee Echo and her band aptly called The Start took to the stage, beginning the show by warming up the crowd. Hailing from the Los Angeles area, The Start has been performing alongside bands such as Garbage and Weezer since 1998. Aimee's raspy, yet high-pitched voice, a hybrid of Blondie and Siouxsie Sioux, brought to life the upbeat, poppy dance songs "Runaway" and "Blood on My Hands" supported by music evoking the spectral synth sounds of old-school Berlin and newer layers of Garbage. After a few more notable numbers off their new album, including the title track "Ciao Baby", and a capable tribute rendition of "Cities in Dust", Aimee and crew retired to the back of the club to hawk their wares and mingle with the other dark denizens of the night.
Next up was Kenna, another Los Angeles-based performer. According to his MySpace page, Kenna's family emigrated from Addis Ababa, Ethiopia, to Virginia Beach, Virginia when he was a small child. Kenna, whose name evidently means "to get what you want", spent his early youth entranced by U2's Joshua Tree.
While Kenna's performance showcased his exuberant songwriting endeavors and overwhelming kinetic energy, I wasn't very impressed by his singing or his style. And although the crowd seemed to enjoy watching him pouring his heart onto the stage, I'm not entirely sure I fully got my groove on. To some degree, every song he performed under a blinding strobe light possessed a slight Jamiroquai aftertaste which grew tiresome. I will say, however, that "Say Goodbye 2 Love" was charming in a cute trip-hoppy baseball-cap-wearing sphere of post-teen-angst-consciousness sort of way. Still, I'm open-minded. Maybe I'll take this opportunity to listen to more of Kenna's efforts before drawing any more decisive conclusions.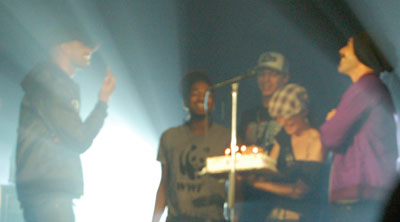 Finally, after two hours of waiting, She Wants Revenge showed up. They first hit the stage for a soundcheck with Justin Warfield's baritone voice chanting, "Ernesto, Ernesto" (the sound guy's name) for several minutes from behind the heavy grey curtain, eliciting hysterical cheers nonetheless. Observing the reactions of the youngsters around me, I realized I was really no different; I'm partial to their style ever since my coming-of-age when albums like Music For the Masses and Disintegration weren't far from my various tape decks (and are now ever-present on my MP3 player). 120 Minutes anyone?
Throughout their self-titled debut album and well into their sophomore effort This is Forever, She Wants Revenge navigates the landscape of the lovelorn through song lyrics alternating points of view between participant memories of loss, and voyeuristic, slightly omniscient witnessings of debauchery.
From the outset, it was clear that bandmates Justin Warfield and Adam Bravin (aka Adam 12) clearly came to envelop Orlando with their tantalizingly tempestuous tales of love, lies, and heartache set seductively to a hypnotic neo-80's synthesizer beat, infused with just the right guitar elements of Bauhaus and The Cure. The band set the tone early by launching the show off to a superb start with the infectious "These Things", a song from their first album thoroughly laced throughout with overt sexual imagery. "Written in Blood" followed shortly thereafter, fresh off This is Forever.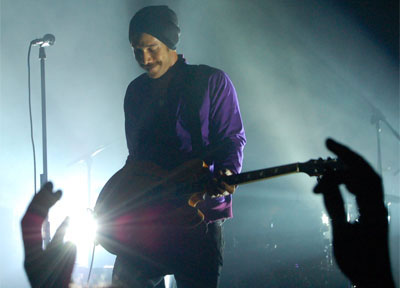 During their set, the impeccably back-lit Justin Warfield (who, incidentally, bears the slightest resemblance to the playwright Tennessee Williams and an early Prince), switched back and forth between electric and acoustic guitars, as did Adam 12 between keyboards and bass. By the 6th or 7th song, however, something unusual, yet quite amusing occurred. A 3-person mosh-pit erupted near the stage not far from where we were standing! Then, out of my peripheral vision, I saw one of the more heavily pierced said moshers crowd-surfing in our direction. At that point, both my husband and I carefully stepped out of the way, allowing him to descend to the floor, landing squarely on his bony bottom.
Unruffled by this untimely landing, the mosher reemerged, this time with more piss and vinegar and proceeded to ram himself straight into a poor unsuspecting little girl who then begin to clobber him with all of her strength. Upset by her display of self preservation, the mosher pushed her back into the crowd, assuming no one noticed. Outraged, however, by this unsporting behavior, Justin stopped his singing in order to issue a stern reprimand to the mosher, telling him if he did something like that again, he'd have to get down there and personally kick his ass! Needless to say, from that point on, everyone played nice. Even the mosher's female victim stood serene; her vengeance at last attained.
She Wants Revenge: http://www.shewantsrevenge.com ◼
---