Jimmy Eat World/Silverchair
House of Blues, Orlando, Fl • December 1, 2007
Jen Cray
There is no snow in Orlando, and this year there is also no big, over-the-top hoopla celebrating it.
Each year the local rock station, O-Rock 105.9, puts on the aptly titled No Snow Show and offers an eclectic bill of rock talent. Last year's event had reached monumental status when its roster was so full of big name talent (AFI, Angels & Airwaves, and Taking Back Sunday among them) that it had to move outdoors to the much larger expanse of Tinker Field in order to meet ticket demands. The festival seemed to be bound for bigger things, making this year's show a highly anticipated event.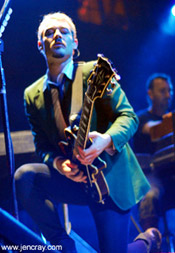 The first disappointment came when it was announced that the event would be split into two separate shows held 5 days apart from one another, and the second upset came when it was revealed that Papa Roach would headline the first night. I skipped out on that, and decided to take my chances on night number two featuring Jimmy Eat World and Silverchair.
Either one of these bands could have sold-out the House of Blues, so filling the club was no real challenge for promoters. I suppose that they felt that having two top billing bands would be enough to satisfy the O-Rock listeners, because no opening acts were tagged on to the bill. This was a shame, because had I shelled out the cash for the $32.50 ticket, I'd have been pissed at being served just 2 hours worth of live music. If you're going to have two bands co-headline, you'd best give them more than an hour each of stage time! And, by the way, since when does a Saturday night concert have to end by 10:30 pm?!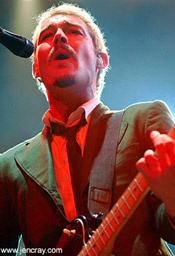 And so, without any crowd warming, Austrailia's Silverchair made- what I believe may be- their Orlando debut, and the audience went absolutely batty for these 27 year old veterans (who've been playing together since they were 15). Who knew that these third wave grunge kids, who had early success with their debut single "Tomorrow" back in 1995, had such a big following?
The band's condensed set ("We're not really used to play only 9 songs," charismatic frontman Daniel Johns confessed) was heavy with songs from their latest release Young Modern, but it was the older tunes like "Isreal's Son" and "Freak" that really got the audience's blood boiling. Johns has virtually grown up on the stage and his ability to connect with the crowd is the band's secret weapon. Whether it's by stopping mid song to break up a fight in the crowd ("There's no need for violence," he says, "Everyone put your hands in the air and hug the person next to you."), or by shedding his shirt to reveal his impressively ripped torso- Johns holds court on the House of Blues stage. When the band takes their exit, the demands for an encore begin.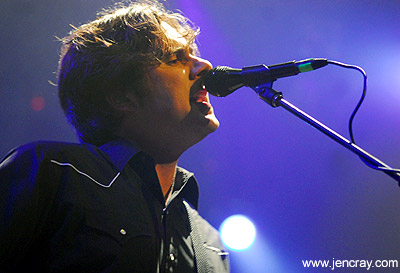 Due to time constraints, no encore could be had, but the quick appearance by Jimmy Eat World seemed to satisfy most fans' desire for more music. Here's a band who are among the early beginnings of emo, back when emo wasn't such a bad word. This Arizona band began as just another pop punk band in 1993, but rather than headed in the direction of peers like Green Day they steered into a fairly virgin realm of an emotionally driven alternative- the sort of playing field first paved by bands like Fugazi, and Jawbreaker.
14 years later, everyone and their mother seems to be in an emo band (god, help us), and Jimmy Eat World's frontman Jim Adkins is often cited as an important influence. It was with a curiosity for these elder statesmen that I found myself in the audience this night.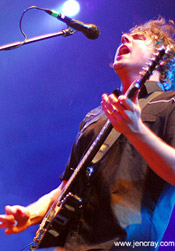 The fans love themselves some Jimmy Eat World, this was a given from the first notes of "Big Casino," a new song off of their latest release Chase the Light. The band had more energy onstage than I had been expecting, and Adkins threw himself around light a ragdoll- which was great for me, because there is nothing more dull that trying to find new and exciting ways to photograph a man at a microphone with his guitar. As is usually the case, it was the older songs that the band pulled out of their tight pockets that garnered the big applause, and the big winners here were "23," and "Blister."
After a mere 60 minutes onstage, the band ended with the big Top 40 hit "The Middle," and were gone. No encore, no nothing. Fans were not pleased by this unceremonious ending to the night.
Hey O-Rock, I know that you mean well, but next year you may want to give the people a bit more music for their money!
To see more photos of this show, and others, go to [www.jencray.com](http://www.jencray.com/bands_live.htm)
---