Eiji Tsuburaya: Master of Monsters
by August Ragone
Chronicle Books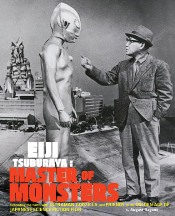 Think rubber suited monsters, and I betcha think "Godzilla". Postwar Japan recovered its pride and economic might making monster movies and cheap toys until they were strong enough to bomb us with quality cars, anime, and cool electronic gadgets. Now is a good time to look back on that era, and August Ragone has assembled this glossy coffee table retrospective about Godzilla's creator, Eiji Tsuburaya. Trained as a pilot and a cameraman, Eiji set the technical standard for excellence in Japanese film making and put the country on the cinematic map. We may regard Godzilla and his companions as charmingly cheesy, but they were the pinnacle of animation for decades.
The book is full of behind the scenes stills, anecdotes, and cultural history. If we regard Japanese monsters as hokey, it's because of our general unfamiliarity with the Japanese cultural and mythical ethos. Bad editing on this side of the ocean didn't help, but Ragone pulls us above that with tutorials on the cultural "Why" and detailed specifications on the technical "How." The result is a long overdue reappraisal of the style, and after a few chapters, you'll seek out the original uncut versions, even if they've been lampooned by MST3K.
While the book explains and instructs, it dotes as well, and that becomes a weakness about half-way through. Good as these films were, they were ultimately disposable children's fare. While art often exists in the mundane, I think Mr. Tsuburaya would be amused at the fawning attention. He certainly had vision, but his artistic process flows from the financial and technical constraints.
Ragone's text is dense but readable. The photos are extensive and fascinating, even if the publisher runs captions vertically, requiring you to turn the book like a Playboy magazine to read them. The last few chapters focus on collectibles, including a Tsuburaya action figure. Interviews with his children and associates dot the book, and there's an extensive cross reference. Reading this book is much nicer than fleeing from radiation-mutated lizards.
Chronicle Books: http://www.chroniclebooks.com
---