Ping Pong
directed by Fumihiko Sori
starring Yosuke Kubozuka, Arata, Sam Lee, Shidou Nakamura, Keiji Ohkura
Viz Pictures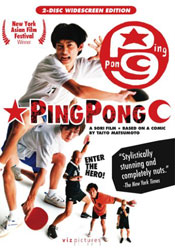 Ping Pong is a fun and exciting story about two ping pong playing best friends and their struggle to figure out themselves and each other in the cutthroat world of high school table tennis. The main character, Smile, is a sullen, brooding teenager who is caught between his natural talent as a ping pong prodigy and his loyalty to his best friend, who he is determined not to outshine on the playing table. Peco, who is also a gifted player, is wasting his own talent by indulging in his laziness and arrogance. Unlike his best friend Smile, Peco doesn't take anything seriously. Instead of going to practice at school, he prefers hustling kids and other novices out of their cash at the local ping-pong dojo (school). The only thing is, when it really matters, like at the proper high school tournaments, he can't come through, and his official record is 94 losses to 4 wins.
This cycle of Peco's self destruction and Smile's constant efforts to reign him in are frustrating and at times difficult to watch, but it all comes to a head when Peko realizes just how much he has been underestimating his best friend. For one game, Smile finally lets go of what was holding him back, and gives himself over to the game. When Peco sees that Smile has been underplaying for years, he falls into a deep depression and quits the game. Finally, without the watchful eye of Peco, Smile is free to develop his ability. The main consequence of this, however, is that a once slightly broody, difficult Smile, has now become next to impossible to deal with, as if Peco was the only thing that made him human at all.
From this point, the movie plays out during the Inter High School Ping Pong Tournament. Numerous outlandish and unforgettable characters are brought into the mix. There's the unforgettable "Dragon", who will do anything to win a game. And "China", the tattooed and intense exchange student who couldn't cut it in the dog eat dog world of Chinese ping-pong, but stands above the rest in Japan. It is while competing in the championship and interacting with competitors from many different high schools that Peco and Smile are forced to figure out why they are playing the game, what they want for their future, and what they mean to each other.
The cast is made up of young, hip, and talented Asian actors who despite not being heard of in the West, have startling and prolific careers in the East. Yosuke Kubozawa (Peco) has taken home best acting honors at the Japanese Oscars for his role in Go. Smile, played by Arata, is not only an actor, but also a fashion designer. Shido Nakamura (Dragon) inherited his talent from his famous kabuki actor grandfather. He is not only a stage actor, but has worked with such big name guys as Ken Watanabe and Clint Eastwood in Letters From Iwo Jima. And probably the best performance comes from a 32-year-old Chinese actor named Sam Lee (China), who is a big star in his native Hong Kong. He has acted in numerous films and also has his own hip hop/metal band.
The director of Ping Pong, Fumihiko Sori, is originally a CG artist. After reading the original manga, he wanted to use his talent to bring it to the big screen. His background makes for some absolutely gorgeous and exciting matches, two words not usually associated with ping pong. Despite using quite a lot of CG, the effect is natural. Sori uses it in a way that perfectly describes the drama of an action manga without going ridiculously over the top, which is unfortunately what usually happens in a manga turned live action movie. Using CG as a complement to the story, choosing a great soundtrack (J-pop band Supercar brings a hip feel to the movie), and the casting of great actors is what transforms the black and white onomatopoetic world of manga to life.
The two-disc DVD set includes extras such as cast profiles, trailers, TV spots, and a very thorough and (thankfully!) subtitled documentary about the making of Ping Pong. Charming, nail biting, and giggle inducing, this movie is a jewel of young Japanese cinema and would be great for any Japanese culture enthusiast, or just anyone who wants to have a good time and surrender their self to the drama and the humor that is high school ping pong.
Ping Pong: http://www.pingpong-movie.net
---