Uncle Earl
Chicago, IL • January 23, 2008
Chris Catania
To truly appreciate a genre of music is to break it down to its core ingredients and drink in the raw influences that are the roots of modern rock 'n roll. Uncle Earl first caught my ear this past summer at the moe.down festival, and about 700 miles and six months later I caught up with the all-girl bluegrass quintet in one of Chicago's best settings for rock and bluegrass music: Schubas Tavern.
Led Zeppelin will always be one of my all time favorite rock bands and they wouldn't exist if not for the folk, blues, and bluegrass music that so heavily influenced both lead singer Robert Plant and bassist/keyboardist John Paul Jones, the producer for Uncle Earl's 2007 album Waterloo, Tennessee.

Back in August, dust stung my eyes as the crowd kicked up a cloud from the dirt floor, but this night it was a wood floor covered in chairs and a packed house with a bit more laid-back crowd that nonetheless was still buzzing to hear the frenzied fusion of fiddle (Rayna Gellert), banjo (Abigail Washburn), mandolin (KC Groves), and golden harmonies all meld together for nearly two hours that seemed like two minutes.
Growing up and now residing in cities all across the U.S., Uncle Earl is somewhat of a bluegrass super group as the most of ladies have several solo albums between them and have played with the likes of Bela Fleck, Patty Griffin and the aforementioned Zeppelin bassist/pianist, John Paul Jones.
Bucking the frigid temps outside, Uncle Earl greeted the sold-out crowd and jumped right into the first song and then told a hilarious story of their less appreciative preceding three-night stint at Oneida Casino in Green Bay, Wisconsin.
KC Groves and Abigail Washburn both laughed and said in amazement, finishing each other's sentences, "Wow, now we have to play to an actual audience and there's pressure. For three nights, we had to battle Superfreak blasting from the casino speakers so maybe our next album will be a remix of Uncle Earl and Superfreak."
Their sense of humor and quick wit is just as sharp as their plucking and songwriting and, minus a brief struggle to blend during the first song, the night was seamless, effortless, and fueled by strong interconnected chemistry without any signs of egos or one-woman showboating; something that could have easily happened with the amount of talent residing among the five ladies.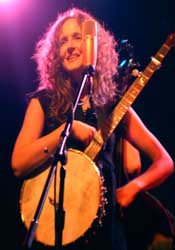 The melodic beauty of an Uncle Earl folk and bluegrass tune can bounce around in your head for days. The quintet of the stringed instruments and entrancing harmonies and explosive stage side clogging of Kristin Andreassen, who clogged a cyclone on a two foot slab of wood stage right while the rest of the ladies tore through "Buonaparte," turned Schubas into a front porch backwoods hangout.
The dramatic builds and grit of "Warfare" sent shivers up my spine, cutting me to the quick, letting me know that even though these ladies have a wicked sense of humor, they also mean business. With the double attack of fiddle and banjo on "D and P Blues," they led the crowd through a floorboard-rattling and infectious yodeling call-and-response. The hilarious rant about their frustrations with the Green Bay morning news media also confirmed that if the bluegrass gig should ever run its course the ladies would also have a successful career in stand-up comedy. All joking aside, the connection with Uncle Earl starts with the brilliant songwriting itself but resonates because of the honesty, vulnerability, and jovial chemistry that eliminate the line between Uncle Earl and their fans.
Playing most tracks from Waterloo, including a few covers of bluegrass classics, the night was a sublimely subdued two sets with the crowd splashed in pockets of stage light revealing grins of pleasure, entertainment, and escape from the daily grind. Uncle Earl – their fans reflecting and gratefully absorbing the pain, sorrow, and celebration emanating from the fusion of vintage bluegrass and modern country pop – successfully revealed the roots beneath the muscle of Led Zeppelin, leaving no doubt that the "g'Earls," as they call themselves, can rock (and clog), too.
Uncle Earl: http://www.uncleearl.net/ ◼
---