Super Spy
by Matt Kindt
Top Shelf Productions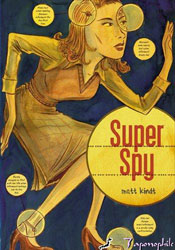 It's time for a spy novel revival. Stock airplane reading material for decades, the genre collapsed when the Soviets fell, and face it – what good is a spy novel without a superpower villain? Today's suicide bombers are too blunt to make for good reading, and the War on Terror isn't the same uncomfortable détente we experienced in the '60s. Super Spy takes us back to the muddy waters of WWII with its shifting alliances, personal and organizational vendettas, sex, love, and mood of impending doom.
Artist Matt Kindt (author of the Pistol Whipped graphic novels) brings us the story of a half-dozen secret agents, each working for different sides, for different reasons. Hastily sketched scenes are interspersed with occasional pages of crystal clarity, truncated dialog evokes a sense of menace, and the non-linear story line keeps you wondering who really works for whom until well after you finish the book. Each snippet of action is labeled with a dossier number, and while there are enough clues to allow a sequential reading, that would remove the charm of this book. The sex and death aren't particularly explicit, and a bit of low-grade cryptography makes you feel like you're on the inside, working alongside these otherwise ordinary folks.
Technology isn't the story – it's the human cost and sacrifice needed to keep the war from pivoting in the wrong direction, whatever that might mean to the viewpoint of any dossier. These people aren't heartless killers, but normal people stressed into doing what they would find unthinkable in peacetime. Any of us could slip into these roles, if things were bad enough.
Top Shelf: http://www.topshelfcomix.com
---