The Loved Ones
The Gaslight Anthem, New Mexican Disaster Squad
The Social, Orlando, Fl • Feb. 13, 2008
Jen Cray
The Loved Ones appeal to a soft spot inside me–the same spot that finds Broadway Calls irresistible and could listen to Alkaline Trio on a daily basis.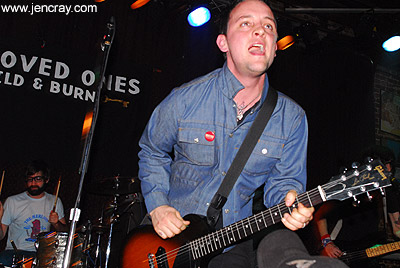 They're too sweet to be street punk, but not limp enough to be confused with the more popular punks on the circuit. The turnout for their recent Orlando gig at The Social was respectable enough in size to impress the band themselves. So, it would appear that I am not the only one who has fallen victim to their charms.
Always a welcome addition to any punk bill, New Mexican Disaster Squad was given the task of warming us all up for the evening. The local hardcore boys have been laying low these days, so their personal fan base contributed to a decent amount of the kids down in front of the stage.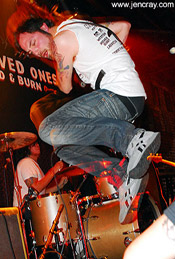 These guys are an underrated local act if every there was one. They've played shows with Strike Anywhere, Against Me!, and Lifetime, and never fail to get the people's attention. Why they haven't climbed their way onto the next rung of success is a mystery to me. Their time is overdue.
When music fans think of New Jersey, they either think of Bruce Springsteen or the emo-core scene popularized by Thursday, My Chemical Romance, and Lifetime. The Gaslight Anthem recalls both aspects of NJ's sordid musical past. Hell, you could even toss into the influence a bit of Bon Jovi's balladry.
Their songs were ambitious, the lyrics deeper than your average young rockers, but the delivery was just above mediocre. They feel like a band that's still in the process of defining itself. Once the wrinkles get ironed out this could be a band worth seeking out.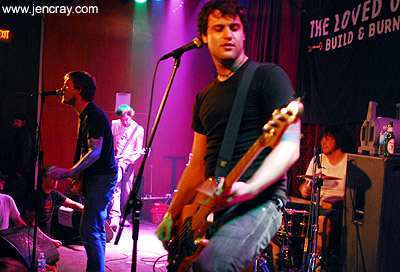 When Dave Hause, vocalist/guitarist for The Loved Ones, opens his mouth, his eyes open up even further. Though his current band's music is more melodic than his previous work with Paint It Black, it's clear that his gut is still based in hardcore. The heavier side of Hause comes out through his aggressive strumming and his bugged out eyes that threaten to reach out and grab the audience by the throat.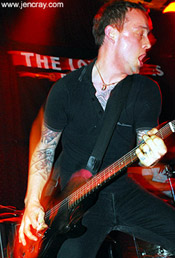 There's also more than just a little bit of Joe Strummer beneath the surface of Hause. It's in his mannerisms, in the way he holds his guitar slung low, and in the way he carries himself on-stage. I am not comparing The Loved Ones to The Clash, but it's clear they are a huge influence and that's never a bad thing.
The set offered up to the Orlando fans was ripped mostly from the band's latest release, Build & Burn, with a few old favorites slipped in to keep the die-hard fans happy.
To see more photos of this show, and others, go to [www.jencray.com](http://www.jencray.com/bands_live.htm).
---