Legendary Albums Live: Heart – Dreamboat Annie
directed by Ivan Dudynsky
starring Heart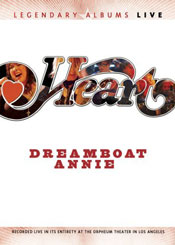 Long ago, before popular music became nothing more than a valueless digital download or a shallow soundtrack to a Cadillac commercial, "the album" was the heart of the record industry's soul. Classic, full length records told unique stories. Songs from The Wall were never confused with those from Dark Side of the Moon. Albums had a beginning, a middle, and an end – and they affected the lives of music fans everywhere. Fortunately, Shout Factory is preserving this (near) lost art form with the introduction of its new "Legendary Albums Live" DVD series.
Recorded live in concert on April 17, 2007 at LA's Orpheum Theatre, this recreation of Heart's 1976 multiplatinum debut album originally aired as a DIRECTV special last spring. For longtime fans, this DVD is truly a (near) treat. Founding members and primary songwriters Ann and Nancy Wilson lead an amazingly talented ensemble of players (who had nothing to do with the original recording) through each track of this classic album. And it truly stands the test of time quite nicely after all these years. Edgier tracks like "Crazy on You" and "White Lightning & Wine" come across as gritty as they did back in '76 while softer tunes like "Soul of the Sea" and "How Deep it Goes" sound as sweet and organic as ever.
But the Wilson girls aren't kids anymore and lead vocalist Ann Wilson often has trouble in 2007 duplicating the original vocal arrangements from 1976. And although the musicianship of the new hired guns is impeccable, much of Dreamboat Annie's charm is lost without the participation of original band members Howard Leese, Michael Derosier, Steven Fossen and Roger Fisher.
Yet from the new orchestral arrangement on "Sing Child" to the energy of the younger musicians, the music of Dreamboat Annie still manages to somehow come across fresh, more than three decades after its original release.
Regrettably, over the years Heart's live set has often been bogged down with tired cover material, and this DVD collection is no exception. In fact, four of the five selections included in the band's encore are cover tunes from such bands as Pink Floyd and The Who, and two from Led Zeppelin. These tunes are promoted on stage by Ann Wilson as songs the group was listening to during the recording of the album, which is odd considering Pink Floyd's "Goodbye Blue Sky" wasn't even released until three years after Dreamboat Annie.
Oh well, it's still a fun performance, packed with great, memorable music and Nancy Wilson still looks freaking delicious. Yummy!
Shout! Factory: http://www.shoutfactory.com
---