Teenage Bottlerocket
The Attack, The Copyrights, Larf
BackBooth, Orlando, Fl • April 9, 2008
Jen Cray
Some styles of music don't need to be improved upon. Pop punk is one such marvel.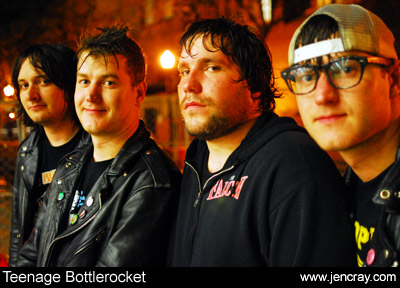 When bands like Teenage Bottlerocket come along and are criticized for sounding too much like Screeching Weasel or The Ramones, I just shrug my shoulders and say "So what?!" They also sound like Mr. T Experience, Groovie Ghoulies, The Queers, and a much longer list of bands that have come before or since. Such similarities shouldn't keep any fans of the salty sweet genre from enjoying their live show.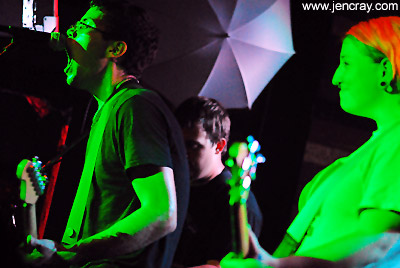 Orlando fans came out before dark for the all-ages show at Backbooth, a bill that was chock full of local talent in addition to Wyoming's Teenage Bottlerocket and The Copyrights from Illinois.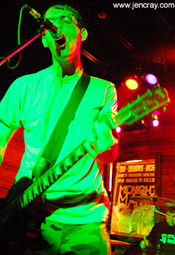 Ultra young and terribly appealing, Larf are playing the music of their older brothers and sisters with as much ease as their elders. Vocalist/guitarist Marcos has just a hint of tongue-in-cheek snottiness that brings these kids closer to The Adolescents and further from the sort of saccharine pop punk most of their teenage peers are probably listening to. Setting the tone for the evening, they brought back the sounds of Lookout! Records.
The Copyrights have been around long enough that I was surprised I had yet to cross paths with them. They sounded like old Green Day, but with just enough teen punk to make them palatable to the larger high school population – if only they'd wake up from their Alternative Press-induced stupor and discover them. They ended a fantastic and energetic set with a fantastic and energetic bit of politi-pop perfection, "Weapons of Math Destruction."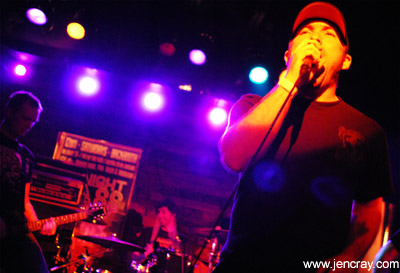 Orlando loves The Attack. I saw it just a couple of weeks ago, when this hardcore quartet opened up for Time Again, and standing out as the sole hardcore act on tonight's bill only gave the band's fans more reason to go off during their set. This band gets better with repeated viewings. The first time I saw them, a couple of years back, I wasn't impressed. The second time I thought that they had spirit, but that could've been the beer talking. This time around, I was impressed – not just with their music, but with their love for their fans and their scene. After pointing out how great it was to see so many people come out to an early show that was mostly local acts, vocalist Charlie went on to compliment each band on the bill. After dizzying the floor with the night's most inspired pit, they ended with an unusual – and brilliant – cover of Tom Petty's "Runnin' Down a Dream."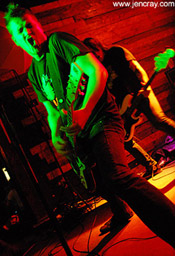 This was Teenage Bottlerocket's long overdue first trip to Central Florida, and though their fan base may not be as widespread as it should be after three albums, the fans who made it out came with big smiles on their faces.
Here's a band with all of the spirit of all of the bands I name-dropped back in the first paragraph of this review. You get a sense that they're just a bunch of kids who fell in love with rock 'n' roll while they were still sucking down Fruity Pebbles and watching Saturday morning cartoons. They don't seem to harbor delusions of rockstar grandeur, but seem perfectly at peace just being able to tour the country playing their songs to whomever shows up to hear them.
Bands like this – whose songs are in the two minute range – will always have sets that seem to fly by in the time it takes to walk from the back of the room to the bar and so, sadly, the Teenage Bottlerocket's time onstage was short. Still they managed to squeeze out "Social Life," "In the Basement," and "Totally Stupid" in those precious few minutes, three audible reasons why I love this band.
To see more photos of this show, and others, go to [www.jencray.com](http://www.jencray.com/bands_live.htm).
---