Riverboat Gamblers
with Coliseum, Strike Anywhere
The Social, Orlando, Fl • March 9, 2008
Jen Cray
Riverboat Gamblers should not be opening up shows for anyone at this point in their career. Their 2006 release, To the Confusion of Our Enemies, is the best punk album to come around in God knows how long, and the band's live show so far exceeds their already brilliant studio recordings that to bill them as an opening act for anyone is just bad manners.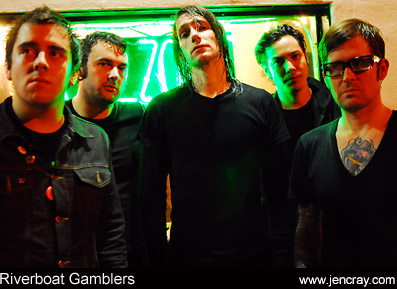 And so, though this particular March 9th show found them billed beneath the also wonderful Strike Anywhere, I will be reviewing them as the breadwinners that they are.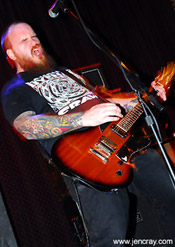 Many of the fans in the packed house were hoping to see Paint It Black on the bill, but the Philly band had just finished up their stint on the tour a couple of days earlier. This made the replacements, Coliseum, have to work twice as hard to win over the disappointed bunch.
Despite the difficult position of being the band that wasn't Paint It Black, the hardcore trio from Louisville, Kentucky delivered a no-frills set of blistering death metal. They played fast, they played heavy, and vocalist/guitarist Ryan Patterson even slipped in an inspiring call for equality that was in keeping with the overall peaceful punk vibe of the evening. Everyone stopped and watched their set — even members of both Riverboat Gamblers and Strike Anywhere. Coliseum has mastered the mash-up of metal and hardcore that so many other bands butcher with their failed attempts.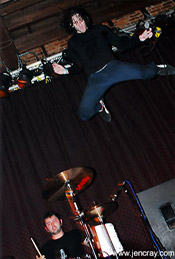 I've said it before, and I will say it again: Mike Wiebe is the greatest frontman in punk rock today, and Riverboat Gamblers is the best punk rock band to come along in the last decade.
They've got the songs, they've got the charisma and stamina, and they've got a live show that you're afraid to take your eyes off of for fear of missing something amazing. On this particular night, Weibe stood on top of the bar, laid on his back on the floor, rode along atop the hands of fans, and repeatedly came close to knocking his head on the ceiling as he pounced off of a speaker stack onstage.
Even those unfamiliar with the band's music stood mesmerized during the nonstop set, screaming along to songs that they probably didn't know the words to but felt compelled to sing anyway. Alongside the newly converted RG fans were members of Orlando's finest bands, including New Mexican Disaster Squad and The Country Slashers.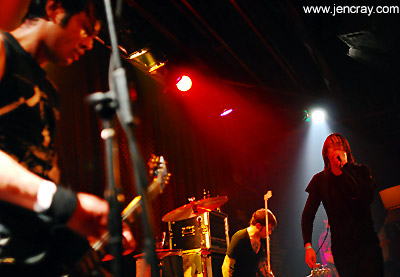 Opening with "Ice Water" and closing with "The Art of Getting Fucked," the Texas boys tossed in a few new songs off of their upcoming release, which they hope to be recording this summer. Though these songs sounded ironed out to my ears, Wiebe told me after the set that they are still works in progress.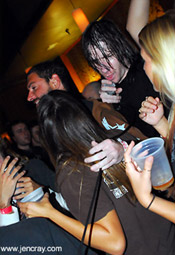 The band's got a couple of new members these days. They go through drummers like Spinal Tap, and this current dude — Eric Green — is the fourth I've seen them with in just over a year. Hopefully this one will stick. The brand new bassist — Rob Marchant — was a bit of a shock, for the former (Pat Lillard) was a founding member of the band dating back to 1997. He, alongside Wiebe and guitarists Fadi and Ian, had seemed an integral part of the Riverboat dynamic. Funny enough, his replacement looks a bit like him and so has earned the nickname "the new Pat."
"How are the new guys working out?" I asked Wiebe.
"They're great! We're having more fun on this tour than ever — I'm really excited!" he told me with a big smile on his sweat-drenched face.
The night before this intimate little gig, I had been standing as just one of thousands at the Langerado Festival, witnessing an incredibly keyed up R.E.M. performance. This was a band that I have loved since I was a young teenager. Riverboat, I had never even heard of until two years ago. When comparing the two very different concerts side by side I cannot say that one was better than the other — such is the brilliance of this little punk rock band from Denton, Texas.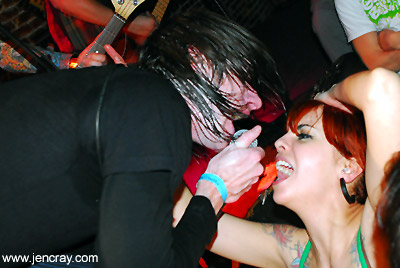 Go see this band! You'll thank me for it, I promise you!
To see more photos of this show, and others, go to [www.jencray.com](http://www.jencray.com/bands_live.htm).
The Riverboat Gamblers: http://www.myspace.com/theriverboatgamblers ◼
---