Uh Huh Her
Angie Mattson
The Social, Orlando, Fl • May 9, 2008
Jen Cray
Uh Huh Her hasn't seen its debut album, Common Reaction, hit the shelves yet, so how is it that their shows have been selling out all over the country? And why is it that two hours before the doors were set to open on their Orlando gig, a group of eager females had already begun a line that would soon stretch around the block?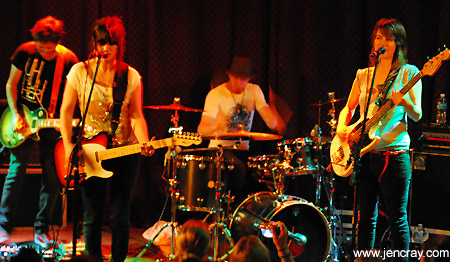 Simply put, it's because one of the two ladies who head up this electro-pop outfit is Leisha Hailey of The L Word. The popular actress also fronted '90s alternative band The Murmurs, but hasn't been on-stage making music in several years.
"I think the day you don't get nervous is the day you should pack it in," Leisha Hailey tells me. "Music, for me, is a weird drug. I'm so scared shitless of it, and I'm scared of performing…with acting I feel really comfortable, but music scares me, and I love that and I don't know why."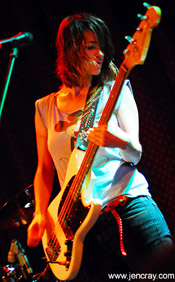 I ask her, "but didn't you start out in music?"
"No, actually, I was studying acting, and then I started a band with my friend just as a fun thing to do."
This brand new project, whose name is borrowed from the title of the 2004 PJ Harvey album, finds Hailey paired up with session musician Camila Grey. The dark-haired jack-of-all-trades has played with a multitude of artists including Mellowdrone, Kelly Osbourne, Dr. Dre, and film score composer Hans Zimmer.
"He's so amazing, he scares me," Grey gushes. "I kind of just fell into doing vocal stuff on movies he was working on."
Anticipation for the band's Orlando debut was high, as the 99% female audience kept the bartenders busy while waiting for opener Angie Mattson to grease the wheels on the night's festivities. As beautiful of a voice as the lone woman with the acoustic guitar had, it could hardly be heard over all the excited chatter. The audience had come for UHH, and few would settle for anything else. Her cover of Alicia Keys' "No One" did encourage a sing-along at the end of her set, but the polite applause that she was given wasn't even in the same ballpark as the shrieks that greeted the women and two men of Uh Huh Her.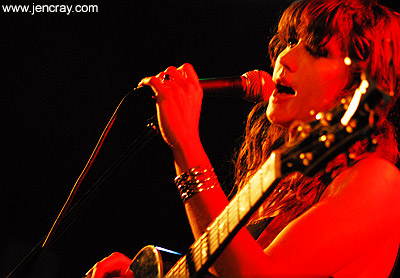 Like mirror images, Hailey and Grey stood on opposite ends of the long stage, each behind a synthesizer. A bass guitar was swapped back and forth as the two multi-skilled musicians took turns handling the low end. Everything about this band is a collaboration, even the lyric writing. The combination of two minds writing the words for one song means that the songs' meanings are often shrouded in mystery.
"It keeps it sort of private, it keeps it for you," Hailey explains. "Everyone has their own interpretation, but this way (the songwriters) can keep something for (themselves)."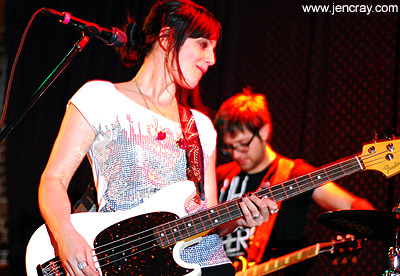 Having had the opportunity to bury themselves in the studio, UHH's album has a finished quality that hasn't found its way into their live performance yet. The rabid fans don't seem to notice that the girls aren't always in key with one another, or that songs like "Common Reaction" and "Wait Another Day" sound a little flat in person. For them it's enough to just be standing at the feet of this band that is still working out the kinks of becoming a band.
"It hasn't clicked yet," Hailey says. "It's like making mistakes in front of a lot of people. It wasn't easy, but – at the same time – we didn't have a choice. It's an amazing phenomenon that people have been coming out to the shows."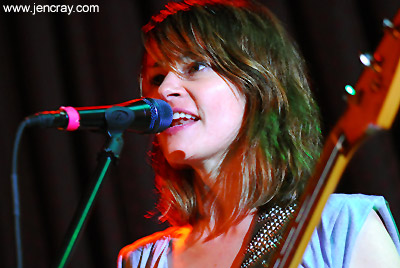 For fans whose appetites have been whetted on these formative shows, the album, to be released in mid August, will be a real treat!
To see more photos of this show, and others, go to [www.jencray.com](http://www.jencray.com/bands_live.htm).
Uh Huh Her: http://www.uhhuhher.com ◼
---