The Sword
Torche, Stinking Lizaveta
The Social, Orlando, Fl • May 24, 2008
Jen Cray
Stepping inside The Social from the rain-drenched roads of downtown Orlando was like entering through a time warp. The sound system bled from Iron Maiden, to AC/DC, and on into Motorhead. Concert fans wore their hair long and shaggy, and their black band shirts baggy and faded.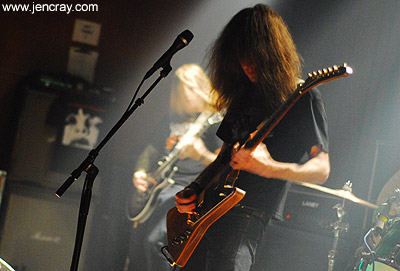 Heavy metal was alive and well and in no way crossing over into the lands of screamo or metalcore. Its sounds were thick and sludgy, and I knew immediately that it was going to be a good night. The Sword was the headliner, but the quality of music given by the two opening bands made the bill an unintentional triple header.
Stinking Lizaveta may have one of the world's worst – or at least most nonsensical – names, but they ended up being one of the best live metal acts I've ever seen.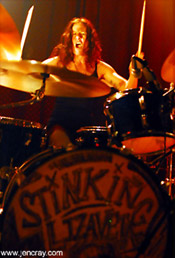 A trio from Philadelphia, the band is almost entirely instrumental, but what they lack in vocals they make up for in performance. They've got an upright electric bass, a lead guitarist who shreds with the best, and a muscle bound redhead who beats the hell out of the drums – often bouncing out of her seat in the process. It took less than one song for the audience to become completely enamored with this band.
Their impressive set culminated with guitarist Yanni Papadopoulos passing his axe to a kid in the crowd to finish up the song with Torche's Jonathan Nuñez and Rick Smith filling in on bass and drums, respectively.
The technical wizardry of Miami's Torche was a big selling point for much of the show's audience. This became apparent the second the band came on. When a metal fan digs the band he or she lets it be known, whether it's through loud bellows of approval, spontaneous moshing, or by just blatantly screaming out "you rock!" Metal fans are not ashamed to show their love, and I love that about them!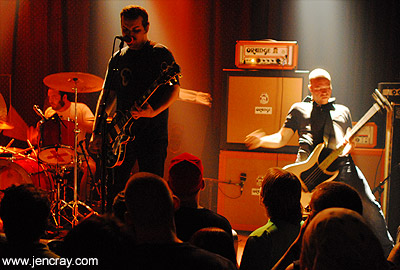 As enthusiastic as everyone was for the prog metal riffs and Chris Cornell-sounding voice of Steve Brooks, I found myself feeling neutral for the band's music. Though accomplished in their abilities, and passionate in their execution, their sound struck me as a less melodic Soundgarden. More accurately, their live sound struck me as such. Listening to the band's recorded music had led me to expect something far more aggressive and multi-layered from the band.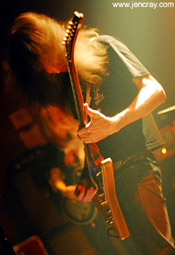 I'd see them again, because I still think that this band is on to something.
Hiding in the shadows of back lighting, as well as behind his own massive mane of hair, The Sword's leader, J.D. Cronise, brought the evening's tone back to the days of '70s stoner metal. The amps pulsated with every flick of his thin wrist, and the walls seemed to shake with each fall of the drummer's fists. This was the music that head banging was made for.
The Austin, Texas band is a traditionally no-nonsense rock act. They play in near darkness without any set dressing or even a simple backdrop. Clearly the focus is meant to be on nothing but the force of the guitar, bass, and drums. Cronise's face could hardly be seen – perhaps that's how he prefers it.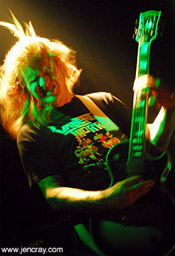 The band's unstoppable set wove songs from 2006's Age of Winters into the thrashier works from the band's recent accomplishment, Gods of the Earth. Their US tour will end with a big blowout at Bonnaroo in June before the boys head overseas for the summer.
To see more photos from this show, and others, go to [www.jencray.com](http://www.jencray.com/bands_live.htm).
Stinking Lizaveta: www.myspace.com/stinkinglizaveta
Torche: www.myspace.com/torche
The Sword: http://www.myspace.com/thesword ◼
---