Hey! Bo Diddley
James Mann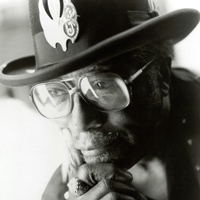 He was born Ellas Otha Bates, and without him, we wouldn't recognize rock and roll today. As an early album declared, he was a gunslinger, armed with a red cigar box guitar (recently revived by Bo and Billy Gibbons of ZZ Top), a cowboy hat, and his own damn way of doing things. He gave the world the "Bo Diddley Beat," an infectious take on "Shave and haircut, two bits," but somehow in Bo's hands, the commonplace became carnal, and helped spawn a music and culture that echoes 24 hours a day, fifty years later.
Without him and one Charles Edward Anderson (Chuck Berry), we'd have no Rolling Stones, who dipped heavily into the Diddley songbook along the path of their career, from "Mona" in 1964, to "Crackin' Up" on the El Mocambo portion of Love You Live in 1998. In fact, Bo damn near wears Ron Woods' ass out on their Live at the Ritz from 1987, and Bo wasn't no spring chicken by that point. Sadly out of print now, the album is a ragtag classic.
You judge a man by his work, and from "Who Do You Love," to "Mona," to "I'm A Man" or "Road Runner" and dozens more, Bo Diddley was one of the foundations upon which rock and roll was built. Sadly, we'll see no more like him again… and frankly, could we stand it if we did? I don't think so. Giants once walked the earth, and he was one of 'em.
Come on, take a little walk with me baby / And tell me who do you love? ◼
---