Rooney
Locksley
House of Blues, Orlando, Fl • June 26, 2008
Jen Cray
When Rooney decided to go on tour with Disney darlings The Jonas Brothers last year, they may have gained a whole new legion of fans in the form of pre-teen girls. But they seem to have alienated a certain percentage of their previous fan base in the process.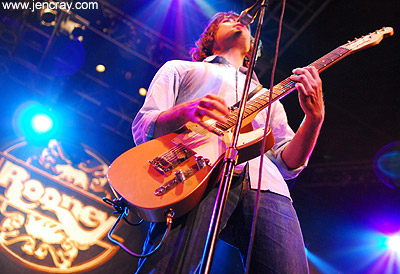 Looking around the audience at their recent gig at the House of Blues in Orlando (funny, it's on Disney property), I couldn't help but notice that the majority of fans were not only not wearing "over-21" bracelets, but many had their parents along for the night. There was that, and there was the fact that it was ten-to-one female.
I caught the band on a co-headlining tour with Ben Lee in 2006. When I re-read the review I had written for that show, I have to chuckle when I see that I wrote, "With their infectious, '60s sounding pop melodies and big stage presence, it's a wonder Rooney haven't gone more mainstream than they have." Well, you know you've gone mainstream when you've got seven-year-old girls wearing Jonas Brothers t-shirts and squealing up at you from beside their fathers.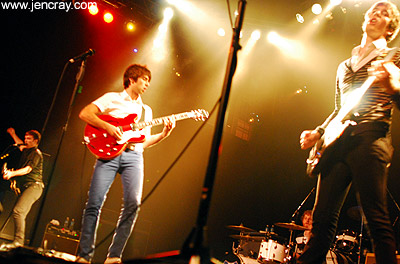 Speaking of squealing, when opening band Locksley stormed the stage, the venue erupted with near-hysterical cries. They're young, they're energetic, they're clean cut, and they want to be The Beatles. They don't sound like The Beatles – they sound more like The Strokes without the booze and cigarettes – but they interact with one another and the audience in a manner that calls to mind the Fab Four.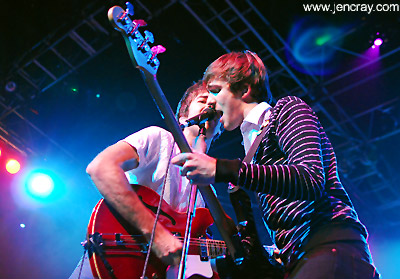 Jumps, knee slides, and guitar tricks color their already smile-inducing set. The three boys who aren't tucked away behind the drum kit trade off on vocals, often harmonizing together on shared microphones. They were terribly fun, I must admit. I can even excuse the fact that they attempted to cover The White Stripes' "Hotel Yorba."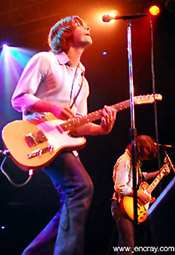 When the band sat down at the merch table to meet fans, the kiddies flocked to them. It was charming. Even more charming was how genuinely happy the boys in the band appeared to be.
When the Los Angeles headliners made their appearance, the tear-jerking cries began once again. Vocalist/guitarist Robert Carmine began the set standing on the edge of the stage, smiling down at the screaming faces, before plunging headlong into the first two songs off of their debut release. That's "Blueside" followed by "Stay Away" for those who don't have their disc handy.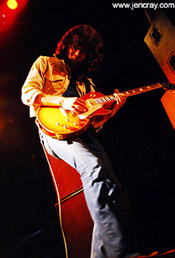 The thing about Rooney as a live band is that they sound exactly like the record. That can be a good thing for those seeking mere sound quality, but a bad thing for those looking for something a little more visceral. Aside from Carmine's coy smiles and guitarist Taylor Locke's Jimmy Page poses, the band isn't about bells and whistles. When compared to Locksley's dynamic set, they seemed quite stiff.
Still, their music is strong enough to stand on its own. If you're unfamiliar with the band's tunes, imagine the most pop-sounding Weezer songs and then add an extra layer of '60s pop on top of it.
Topping off a night that was steeped in Beatles references, the band encored with a cover of "Helter Skelter."
To see more photos of this show, and others, go to [www.jencray.com](http://www.jencray.com/bands_live.htm).
Rooney: http://www.rooney-band.com ◼
---