Totimoshi
Strangers, Kingsbury
Backbooth, Orlando, Fl • August 15, 2008
Jen Cray
Oakland trio Totimoshi packs quite a punch, but it's a heavy hitting slug that can be hard to land. Too heavy to be considered punk, but too nonconformist to bear the restrictive heading of "metal," Totimoshi rides its own genre wave, peerless. This lack of a musical reference point can be the only explanation for the depressingly small turnout for their recent gig in Orlando, opening for psychedelic metal act Nebula.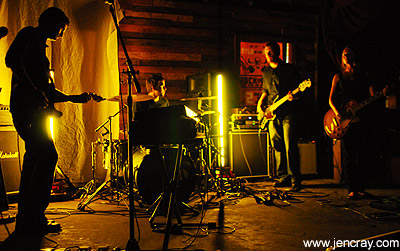 The sonically experimental band Kingsbury was a surprise to my ears as I walked into the venue expecting a heavier onslaught. Like fellow Orlando band Summerbirds in the Cellar, this quartet created an ambiance that's difficult to describe, but impossible not to feel. Tucked into the shadows of the stage, lit solely by a pair of long vertical tube lights, the faces of band members were all but lost in the darkness. With the visual aspect of the performance obscured, the significance of the music to create a memorable experience became heightened. I quickly found myself getting lost in the moody vibes that hearkened back to the days of My Bloody Valentine, or more recently, The Verve. This isn't to say that the music was all quiet. Counteracting the moments of calm were explosive dual guitar attacks.
This is definitely a band I plan on checking out again in the near future.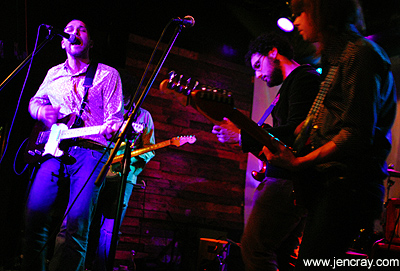 The same can't be said of Strangers. Adding a psychedelic color to Orlando's vast palette of musical talent, this seven-piece acid flashback played as if it was 1967. The hallucinogenic-dipped rock was given further hippie flavor by the swirls of colored water and oil projected onto them.
If this sort of trippy mood and sound is your thing, then Strangers may just be the band you've been searching your whole life for, but I've never understood this kind of music – unless it's much darker and packs more of a dirty kick. Otherwise this is just music to get high to, and I'll pass.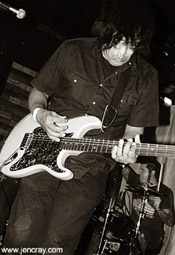 When Totimoshi started their set, it was with no preamble. They plugged in, they played. There were no frills in their performance, but when the music is this strong, frills are not necessary.
So what do they sound like, you want to know. The closest comparison I can come up with is TOOL that's been muddied up with grunge. The Melvins could be another reference point.
Their set was as powerhouse as ever, and though the crowd was minimal, those in attendance banged their heads righteously. The guitar play of vocalist Tony Aguilar was a testosterone-fueled attack that teased Meg Castellanos's bass work into a palpably sexual counter reaction. Behind all of this, drummer Chris Fugitt plowed the beat along. As important as the drumming is in this band, they have been through about a dozen drummers in just over half as many years. At its core, the band rests on the shoulders of Tony and Meg.
Like a slow chugging train, the set culminated with the final few songs exploding the dark club in a sonic boom of sound. "The Dance of Snakes," off of Ladron, ended it just as they were seeming to warm up.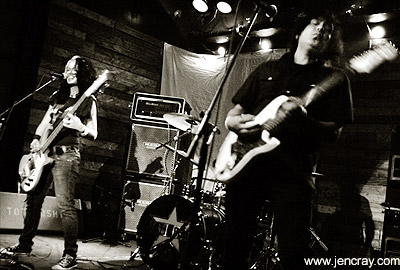 "Thirty minutes isn't enough, that's just when we're getting started," Aguilar told me after the set. What Totimoshi needs is a headlining tour, and a fan base that appreciates its unique brilliance.
To see more photos from this show, and others, go to [www.jencray.com](http://www.jencray.com/bands_live.htm).
Totimoshi: http://www.myspace.com/totimoshi ◼
---