Encounters At the End of the World
directed by Werner Herzog
starring Antartica
Discovery Films, Encounter Films, THiNK
As Werner Herzog's C-130 flares into the ice landing strip at McMurdo Station, he intones in a neat parody of Jacques Cousteau's voice, "I've not come to Antarctica to make another movie about penguins." It's a noble thought, but by the time the credits roll, we've dealt with gay penguins, penguin threesomes, and crazed penguins heading inland to certain death just like Shackleton, Amundsen, and a dozen other explorers. Sometimes, your material just transcends your ambitions.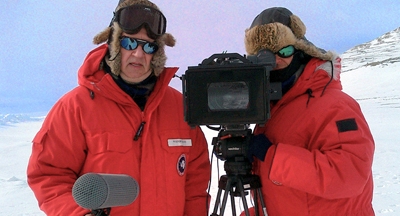 Herzog's reputation leads one to expect the unexpected, yet Encounters At the End of the World largely covers the sort of material one would hope for in a nature documentary – interviews with quirky residents interspersed with spectacular video, rocks, cephalopods, and ice formations. It's comforting, but with just enough of the auteur's edge to make you glad not all the documentaries are on cable TV.
McMurdo has more PhDs per capita than MIT; everyone knows how to build an igloo in a whiteout blizzard or operate an acetylene cutting torch. The typical residents are semi-professional travelers with backpacks full of stories and the burning desire to thumb their way to Kamchatka or Katmandu when they get bored. Herzog interviews an Apache claiming decent form Inca royalty, a linguist with no languages to study running a green house, and a woman who casually mentions she hitchhiked from Ecuador to Peru in a sewer pipe. Antarctica is a centrifuge for the terminally restless, a place they need to visit at least once to keep their Rough Guide credibility.
With Herzog we visit increasingly distant research projects. Milking Weddell seals leads to blasting holes in 20-foot-thick ice to visiting scallops in a -2 degree Celsius sea – mild stuff compared to the erupting lava lake and the physicist seeking neutrinos who spends months at 40,000 feet with a 300-foot helium balloon. The creepiest resident is the taciturn guy who's worked with penguins so long he's gone native. He calls them "disoriented," but when these birds waddle away from home and food to certain death, you think of the explorers who died on the ice on their own Spirit Journeys. Why else would you head into the unknown with only the irrationality that in THAT direction lays your destiny?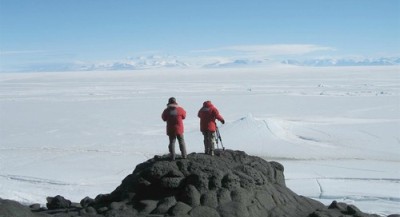 Herzog's best topic is that exact sort of mania – how else can you interpret Fitzcarraldo or Aguirre, Wrath of God? Still, Encounters is accessible, acceptable to anyone, and the sort of visual treat that even a 67-inch plasma TV with a Blu-ray DVD can never provide. Here's Herzog's message: "Antarctica is Huge. Unimaginably Huge. But Don't Panic."
Encounters: http://encountersfilm.com/
---