Kabluey
directed by Scott Prendergast
Lisa Kudrow, Scott Prendergast, Christine Taylor
Whitewater Films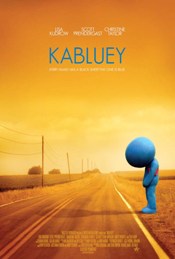 There's a rule in film – never kill a child. I was ready to throw that rule out the window 10 minutes into this annoying study of a desperate and hopeless man in search of a job or any purpose in life. Leslie's (Kudrow) husband is off in Iraq on an endless tour with the National Guard. She's left alone with her two hellion sons, Cameron (Cameron Wofford) and Lincoln (Landon Henninger). She might lose her job with a busted internet company, and her slack-jawed, slacker brother-in-law, Salman (Prendergast), arrives to babysit. He has even less control over the pair than she, as they beat the house to bits with baseball bats and conspire to murder Salman and burn the house down.
These are very evil 4-year-olds – even if their heads don't spin all the way around. The failing household grates on for far too long, while neither Leslie nor Salman nor the kids generate the least smidgen of sympathy – until Salman gets a job. He dresses in a blue mascot suit with no hands, feet, face, or personality. His sadistic supervisor, Kathleen (Conchata Ferrell), drops him on a country road in the heat to pass out flyers for office space rental and suffer the indignities all mascots face: physical attack, ridicule, and the assumption they aren't real people. When Salman is hired to appear at a child's party, he breaks through to his evil nephews, saves Leslie from a two timing adulterer, and holds the family together until dad returns and he has to leave.
The heart of this film seems to be the sight-gag of Salman as Bluey standing on a remote road, plugging commercial real estate. The sight gag is fine for an Adult Swim segment, but it wears thin over the movie's 85 minutes. When not staring slack-jawed in amazement at some absurdity or another, Prendergast reminds you of Hugh Laurie playing Bertie Wooster. Kudrow appears old and tired most of the movie, and only when she's in the arms of her boss and lover, Brad (Jeffrey Dean Morgan), does she have any charm. Most enigmatic is Bluey's vicious boss, Kathleen (Conchata Ferrell). She's constantly angry at Salman for no discernible reason, and why she thinks he's going to sell Class "A" office space standing in a two-lane highway is a mystery. Kabluey offers the comedy of watching a loser fall deeper and deeper into the depths, and kicking him on the way down.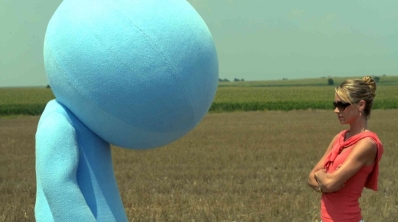 Fortunately, you start cheering for Prendergast when he realizes the suit gives him a weird super power of anonymity. People pour out their secrets around him, and that makes him likable. It's just a very long road to that point, and along the way you feel trapped in Bonfire of the Vanities or The Out of Towners. But if you make it this far, stick around for the credits. There's a clever animated segment near the end that summarizes the movie without the annoyance of Cameron and Lincoln, and would look better as an opening tease. Kabluey should leave you with one single idea – get the vasectomy, TODAY.
Kabluey: http://www.kabluey.com
---