Anthony Green
Good Old War, Person L
The Social, Orlando, Fl • August 4, 2008
Jen Cray
Circa Survive is the latest band to find its frontman moonlighting as a solo artist. Anthony Green, known best for his impressive nearly falsetto vocal range, has picked up a guitar and turned down the volume, but other than that his solo work sounds a lot like his main band's. It's no surprise, as I enter The Social for his intimate Orlando gig, that I find the venue packed to the gills.
Opening act number one finds another somewhat famous face taking a break from his main job, in this case as the vocalist for The Starting Line. Ken Vasoli heads up Person L, a good-but-not-great band from Philadelphia that sits somewhere in between the atmospheric indie rock of Sparta and the post-punk fuzz of Fugazi. "We're Gonna Run Out Of Road," finds Vasoli channeling Ian MacKaye so much so that I find myself wracking my brain to figure out which Fugazi album I know the song from. I'm mistaken, of course, the song is brand new and can only be found on Person L's debut disc, Initial.
Vasoli's snake-like thrashing about and throat-splitting vocals keep my, and the bulk of the audience's, attention for a good 20 minutes before it all begins to fizzle into redundancy.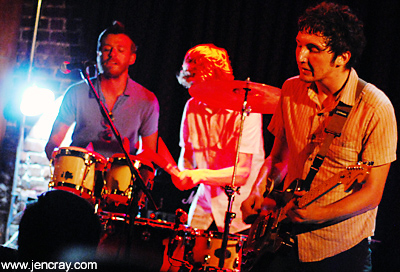 The moderate aggression that Person L inspires soon fades into quiet campfire contemplation once the trio of Good Old War spreads itself out on the long, narrow stage. With little to no energy and humble alterna-country melodies, it quite surprises me the number of fans who not only enthusiastically applaud at each song's end, but also sing along to every word. Looking around the room it doesn't look like a crowd bred on such mild-mannered folk music, but they practically break blood vessels in their necks as they sing along to "Coney Island."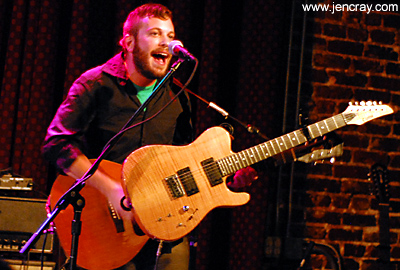 Vocalist/guitarist Dan Schwartz tag teams between an acoustic and electric guitar during the same song, and drummer Tim Arnold has a small keyboard set up next to his drum kit to pull off some more double duty. Both of these things I find impressive. The highlight of the set, however, comes when Anthony Green joins vocalist/keyboardist/guitarist Keith Goodwin at his mic for the song "Weak Man" and busts out a harmonica.
"We'll see you in a bit," Goodwin says before leaving the stage for a short break before he and the band come back out to serve as part of Green's band.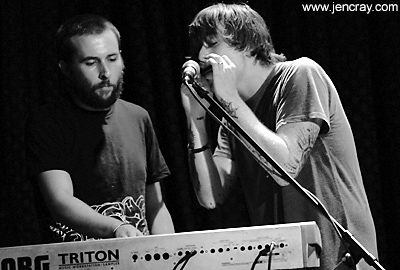 The appearance of Green on a stage mere inches from his many fans results in the immediate, and incessant, flashing of dozens of camera phones. This visual display, combined with the numerous declarations of love (and the occasional demand of "Take off your pants!") can only mean that Green's days on the small stages are numbered. Along for the sweaty tour of tiny clubs that Circa Survive has long since outgrown are two more members of that marquee band, both bassist Nick Beard and guitarist Brendan Ekstrom join the singer onstage. That's three-fifths of the band, for those keeping count!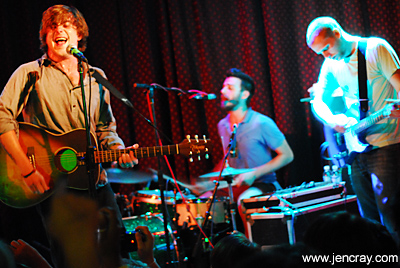 Musically Green's solo work is not as bold as I had hoped it would be. As with his work with Circa Survive, and Saosin before that, his voice carries the music. "Dear Child," the strongest song in his current set list, plays like a Circa Survive song that's been stripped of its experimental elements. Of the dozen or so songs he plays, it is by far the best and receives the biggest reaction from the audience.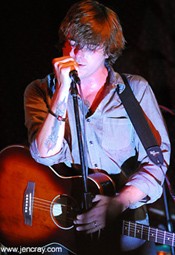 Unlike a lot of his peers, Green's solo works are plugged in. Rather than stand alone with an acoustic, he brings along a full-fledged rock band to back him, which I applaud because Green's charm is in the way he throws himself head first into every song he sings. It's the way he contorts his body and face in a manner that's completely unselfconscious, seemingly overwhelmed by the music, that draws me toward this blue-eyed vocalist as a performer.
Though his legions of fans may disagree with me, I don't feel that Green has hit his stride in terms of a band just yet. There seems to be so much more tangled up inside that head of his that is just aching to break free. Not his current solo work, nor his work with Circa Survive, has yet to tap into that side of his brain that calls Bjork and Perry Farrell great influences. Still, everything that he's part of on his way to self-discovery is fun to watch, if not to listen to.
To see more photos of this, and other shows, go to [www.jencray.com](http://www.jencray.com/bands_live.htm).
Anthony Green: http://www.myspace.com/anthonygreen ◼
---