Alter Ego: The Best of the Legendary Comics Fanzine
Edited by Roy Thomas and Bill Schelly
TwoMorrows Publishing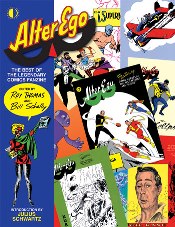 If the pinnacle of the Golden Age of comics was Captain America bitch-slapping Hitler, the lowest point in the history of the medium came a mere ten years later. By 1955, superhero comics were almost entirely replaced by "funnies" strips: romantic tales, ultra-violent crime, and horror stories. With McCarthyism in full swing, a schizophrenic lineup like that is sure to attract a lot of unwanted attention. After years of social outcry and Senate hearings investigating books "packed with every form of vice, sadism, and violence conceivable," the Comics Magazine Association of America self-censored by adopting the Comics Code. Within a few years, sales were at new lows and many publishers were sunk.
In the early 1960s, superhero fans began to connect through fanzines. The most famous and influential of these amateur publications was Alter Ego. Originally conceived as a newsletter for fans to connect and discuss their childhood heroes, AE expanded quickly and gained readers mainly through word of mouth. Crammed with fan letters, parody comic strips, interviews with industry insiders and early artwork by legends such as Jack Kirby and Steve Ditko, it's no wonder AE became such a fan favorite. There is even a fascinating letter from Stan Lee thanking AE for covering his brand new superhero team, the Fantastic Four. By the end of the 1960s, superheroes were back on top and some of the original Alter Ego contributors had actually transitioned into the industry as writers and artists. Alter Ego may not have single-handedly revived the comic industry, but it did a great job documenting this pivotal era in the industry.
Originally reprinted in 1997, TwoMorrows Publishing offers a new printing of the first 11 issues of Alter Ego, covering its most influential period. Anyone interested in the history of comics or popular culture in general will find this volume fascinating for all the reasons listed above. Be sure to check out TwoMorrows' other publications too. They are among the best in comics-related publishing.
TwoMorrows: http://www.twomorrows.com
---