Mego 8" Super-Heroes: World's Greatest Toys
by Benjamin Holcomb
Twomorrows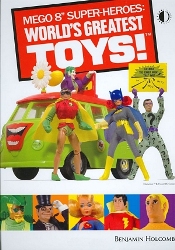 I was too young for the Mego's heyday and missed the figures the first time around. I vaguely remember seeing a bunch of them at this store and being dazzled by the display and the garishly colored packaging and the surreal kick of seeing, for all intents and purposes, Ken dolls dressed up like an incredible array of Marvel and DC Comics characters and digging the obscure character choices. Come to think of it, I did own one. I was given a Hulk Mego doll. Lost the pants pretty much right off the bat, so I was too embarrassed to play with a naked Hulk doll. I remember leaving him out under a tree in the front yard, hoping someone would steal him. No luck.
This potent hybrid of utter trainspotter obsessiveness and archival research is exactly Twomorrows' raison d'etre. As I've said before about some of their more specialist publications – later editions of the All-Star Companion, Blue Beetle Companion, and Kirby Collector – these are not for the casual fan as far as the content goes. This title, especially, is somewhat impenetrable even for me. It's more akin to a catalog like Overstreet's Comic Price Guide than a straightforward history of the Mego Company's foray into superhero action figures. The minutiae of the listings of card variations and which figures went into which wave made for a quick skim. And yet…. my god, the EYE CANDY herein! This is where the book excels in drawing in readers beyond its intended audience. John Morrow and his design people really went all-fucking-out in making this a coffee-table book par excellence! Unlike the usual black-and-white tabloid fare of the Modern Masters series, this tome is oversized for maximum image excellence, more akin to one of the larger-than-life Kirby Collector volumes, but it even exceeds that standard.
Mego 8" Superheroes is hardcover, with hiqh-quality glossy paper and full-on eyepopping color. Indeed, the color verges on the garish to the uninitiated at times, but that was part of the magic of the gaudy hues that made up the Mego costumes. Completely Seventies. Each page is filled with glorious, oversized photographs of each figure from several different angles, all packaging art and advertising art and detailed breakdowns of lineups, case breakdowns, collectibility, release dates, and any manufacturing variants. Though no mention of prices, thankfully, this is for the collector and not the prospector. Hell, there's even a photographic crash course on the different types of body parts (and running modifications to them) that made up a Mego Doll – both man and woman – and by the end you too will be like,"Hmmm, clearly the Riddler has a Type 1 arm." That nerdy! The book is broken up into informal chapters devoted to each character in the Mego line, with a full photo essay and retail history on each – including the Joker, Thor, Conan, Supergirl, Captain America, Green Arrow, and Isis.
They look like acid-trip Barbie dolls, but Mego figures have this undeniably naive charm to them (artifacts of an age before collectors and eBay and sweating whether or not to open your figures up). This was a pioneering concept for boys' toys. Marketing and licensing genius Stanley Weston, whose prescience enabled him to snatch up licensing and production rights from companies like DC and Marvel for a dream (something that will NEVER happen again as licensing rights are more coveted than the actual comic book stories) shopped the concept of an action hero line to company after company – doors slamming in his face all around town – until the canny Marty Abrams of Mego ran with his ideas. Two decades later whole aisles of toy stores are devoted to dolls for boys… err, action toys, so you might as well call those gentlemen the fathers of the modern action figure. Though they did turn down the Star Wars license. Can't win 'em all.
This would make a primo and very affordable coffe-table book for comic book nerds and retro hipster fetishists and just plain kooky cats alike. Kudos to Twomorrows for venturing outside their usual comfort zone and giving this tome the deluxe treatment. Any action figure enthusiast worth their salt should pick this baby up, to explore the gnarled roots of their hobby.
Twomorrows: http://www.twomorrows.com
---