Rough Stuff #9
Edited by Bob McLeod
Twomorrows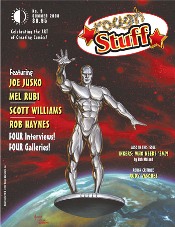 Rough Stuff is a magazine aimed at the aspiring comic book artist and the diehard superhero art enthusiast. The editor, Bob McLeod, is an accomplished inker and artist whose works date back to the early seventies. A highlight of #9 is an in-depth interview with comic book painter Joe Jusko and inker Scott Williams. McLeod offers very informed interviews, which benefit from his own experience as a comic pro. The interview reads as though you're listening in on a conversation between two old pros having a beer at a comic convention. They spend a good deal of time discussing the technical aspects of the craft: what type of paints Joe uses and why, panel composition, the importance of figure anatomy, and their art studios. Rough Stuff is filled with original artwork, but being a black and white title, fails to show the full effect of Jusko's wonderfully colored work.
The interview with Scott Williams is similar to Jusko's in the sense that you're receiving valuable information about the craft of inking that can only be obtained from the back and forth of two longtime, well respected inkers. I learned more about out-of-production pens and brushes than I thought I'd ever know. The artwork in the Williams interview adds tremendously to the content, featuring examples of pencil pages by the artists, followed by the pages once Williams has applied his inks. The before and after puts the techniques and philosophies talked about by McLeod and Williams in front of your eyes.
In Rough Stuff's critique section, McLeod takes sample pages by aspiring artists and critiques the pages panel by panel, explaining the mistakes the artists make and providing suggestions on how to make the work more professional. As enjoyable as Rough Stuff #9 is, it may not appeal to the casual comic book fan. But for those who live and breathe "traditional," aka superhero comics, or are trying to break into the field, this magazine is a valuable tool.
TwoMorrows: http://www.twomorrows.com
---