The Rumble Strips
Mumpsy & Birdmonster
Orlando, Florida • Wednesday, October 8, 2008
S.D. Green
Forget monster.com, if the Social needs a concert promoter, they should give Chris Rea a call. The crowd was modest when I dashed through the rain and onto a bar stool for the show. But when main Mumpsy, Jeff Ilgenfritz, asked the crowd who was there through the benevolence of guitarist Chris Rea and free tix he sent out via email, a show of hands revealed about half the audience got the gratis treatment. Mumpsy take care of their peeps, and their peeps take care of Mumpsy. As local favorites, I'm willing to bet as many people came for Mumpsy and stayed for the Devon, U.K. headliners, The Rumble Strips, as the other way around. And though their shaggy rock was hampered by a poor live mix and an out of tune bass, it didn't stop a handful of folks from singing along. Ingelfritz is Mumpsy in every respect save the live performance, and this may be why their live show was a bit rocky. Bassist Phil Longo admitted he was still learning how to play bass with his fingers. Ingelfritz was lively. He even ran around through the audience shaking hands and hugging people at the end of the set – it was kind of a special occasion after all. The band's second album, Cat and Canary, just went national. Their tunes have a splashy '60s rock vibe that shows some sharp songwriting chops and sweet backing vocals that remind me a bit of Zumpano. A brief chat with singer Jeff, outside after their set, revealed they're about to take the show on the road to NYC. Wish them the best.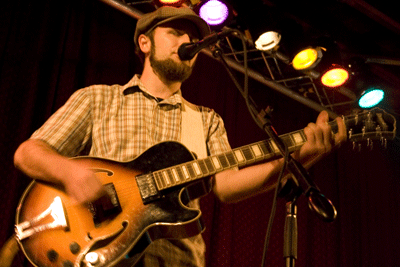 I was less sure what to make of Rumble Strips' touring partners, San Francisco's Birdmonster. Yeah, that name sounds like something Soundgarden left on their rehearsal floor, or any number of '90s alt-grunge acts, but the fresh-faced and tight-jeaned quartet that took the stage didn't exactly wave the flannel flag. Nor did their sound match their look. There's been something of a modern rock re-discovery of Nebraska and Born to Run (in some cases, discovering for the first time) and Birdmonster could have stepped right off of E-Street. The way Peter Arcuni drummed his telecaster, pitching back and forth around the mic, I should have detected the Springsteen influence right away. Their sound was full of shifting dynamics and ran the spectrum of styles from new wave rock to country, but failed to deliver with clunky lines like "It's the ice age, baby…" then something else, but it was so melodramatic I couldn't bear to pay attention anymore. But, they were "givin' 'er" and they did apologize for their big-ish hair: "Orlando's air is muggy," they noticed, and was to blame for making their head fur frizzy. They did play with a lot of feeling and the racket became manageable if not memorable. They graciously cut the last song from their set so the crowd could hear The Rumble Strips – an endearing gesture in my book.
By the time The Rumble Strips took the stage, the rain had died down and the room had filled up a bit. Achieving moderate chart success in their native U.K., the Strips are a relatively unknown commodity in the U.S. Perception, again, was knocked askew. The Rumble Strips' songs revolve around a simple formula of frenetic strumming and blaring horns that recall early British ska and cockney dashes of Clash-style punk, backing up Charlie Waller, whose bellowing voice plays lead horn to all that "Come on Eileen" trumpet and saxophone.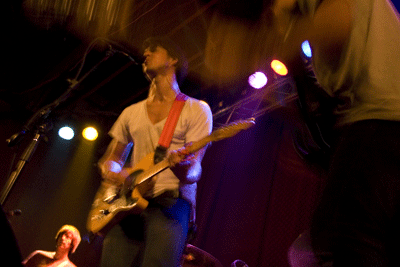 It is this instrument that makes The Rumble Strips stand out. With chaotic bursts and wailing vocals, their debut Girls and Weather, is the antithesis of headphone music. Jittery and speedy, Rumble Strip tunes are mostly choruses with preambles, not much in the way of verses. When Waller sings in "Clouds" that he is "Lying on my back, looking at the clouds," the octave and pace shift over the song's spare 3:37 running time but nothing else, at all, is said. For this first release, that devouring voice is enough to grab you, shake you out of a funk, and catapult you into the troposphere (you know, where the clouds hang out) for three minutes.
Possessing such a torturous wail, I expected Waller to be a big, swaggering presence, but he was a tiny, shell-shocked man-boy whose military jacket and old beat up parlour guitar made him look like a grade school castaway on Gilligan's island. Everybody in the band was bigger than him (especially cool, Greaser bassist Sam Mansbridge), and far from stalking the stage and wringing every breath out of his body, he stood bone-straight in front of his mic stand with round eyes peering out over the audience as his arm jerked across his guitar strings. He looked absolutely terrified and when his voice erupted out of nowhere, like it was shooting out of the horn of a trumpet or the barrel of a gun, it was as if he was possessed and shocked, as if the terror was his voice itself, horrific in its big-ness. He was like the musical version of Big, if the adult became the child and the part of Tom Hanks was played by David Byrne, while Josh, the kid, was played by Charlie Waller.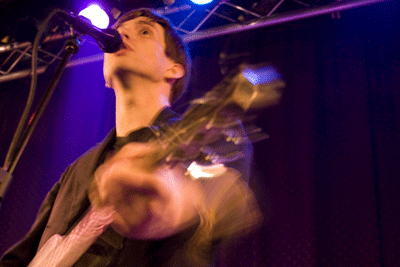 With scarcely any additional material, they played most of their debut album. While "Alarm Clock" was their big U.K. hit, "Girls and Boys in Love" is the toe-tapping sing-a-long that stuck in my head days after the show was over. The sound never did quite get sorted, and on hardcore yelpers like "Time" Waller's voice was uncomfortably piercing, but the lively horns and swinging energy made for a warm and danceable, if somewhat short, set (in part, due to a lack of stage chatter from our wide-eyed front man). Technically, a rumble strip is a rough tab on the side of the road that jolts you to attention if you drift out of the lane. On this night, these Rumble Strips did their job.
The Rumble Strips: http://www.therumblestrips.com ◼
---