Slipknot
with Coheed & Cambria, Trivium
UCF Arena, Orlando, Fl • February 18, 2009
Jen Cray
The nine men who make up Slipknot parade around the backstage corridors of Orlando's UCF Arena dressed to the nines in their chosen character's garb and masks, scaring the bejesus out of more than one security staff member.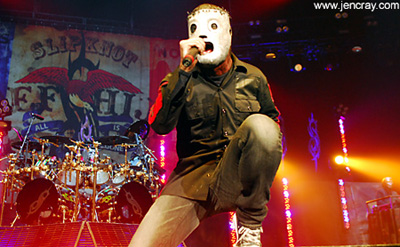 Whatever sort of forewarning – they were surely given – for the night's musical act could not possibly have prepared arena security for the skin-crawling costumes of the Iowa band, or the floor-shaking enthusiasm of their largely male fan base. For one night only, the University's venue belonged to the darkly clad masses who had come out in droves to throw their bodies into the madness of the year's first major metal tour.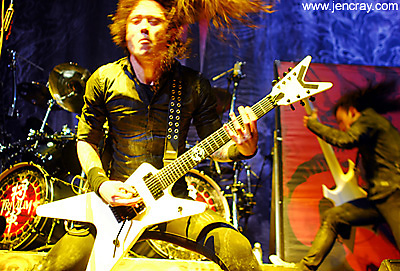 Trivium, Orlando's answer to Metallica, raised the decibel levels in the place to a near painful level very early on – leaving many reaching for ear plugs while simultaneously keeping they rhythm with their heavily nodding heads. The young band played, as they always have, as if the night belonged to them. A headlining act no matter where their names sits on the bill, these guys have shared tours with Iron Maiden, Ozzy, Slayer, and Metallica, and seemed only too thrilled to be on this massive arena tour with the country's most recent metal phenomena.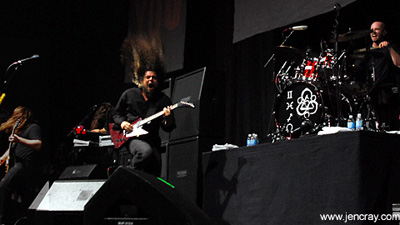 At continuous urging from singer/guitarist Matt Heafy, the Orlando audience gradually became a little more vocal in their approval on the band, but the energy still felt stunted. Saving it all up for Slipknot, it would seem, the crowd didn't exactly give this hometown band their due respect – and it was no fault of Trivium's. Heafy, second guitarist Corey Beaulieu, and bassist Paolo Gregoletto were constant blurs onstage running the long length of the large stage – Heafy switching between all three microphones. Keeping the beat grounded was drummer Travis Smith and his heavy hands. Orlando has yet to discover what it is they have in Trivium.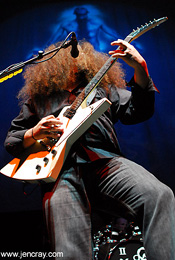 …Yet they salivate with every note that Coheed & Cambria's Claudio Sanchez squeezes out of his guitar. I know that I'm in the minority here, but I just don't get it. Sure the guy can shred, and the mountain of curly hair that he lives behind is intriguing in appearance, but they come off like a bunch of emo rockers covering RUSH. It's prog rock, seeped heavy in comic book mythology, and it just doesn't resonate with me, but the kids eat it up with a spoon! Seconds into the band's set the arena was awoken from their dim slumber.
With a massive backdrop that depicted a Watchmen-esque figure and the words "God will not save you" in blood red block letters, the band's stage set up is a sight to behold, and Sanchez's hair dynamics and guitar acrobatics are definitely attention holding. I will give this to them – they know how to entertain, and their songs do sound better when bounced off of thousands of fans. Were it not for the headliners to come, the crowd would not have allowed them to leave the stage so quickly.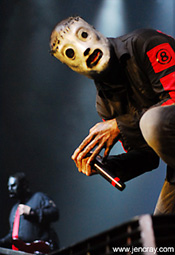 With nothing else to focus on but the large curtain that hid the headliner's elaborate stage from view, the near maniacal fans on the arena floor began to rush the barricade before the lights had even begun to fade. Security quickly doubled, in front of the stage where I stood, and I felt a moment's uncertainty. How strong is that barricade, and how determined are these fans? I wondered, as I gripped my camera close. By the time the curtain raised and the masked monsters of Slipknot were revealed in all of their comically horrific glory, the venue was absolutely pulsating with energy.
Some of the most heavily-driven, fastest-played, and loudest metal I've ever witnessed assaulted my senses for the next blur of minutes, or hours. Three drummers, top billed by Joey Jordison, make this one of the most chest-pumping bands on the scene. Add to this fact that one of these percussionists spends much of his time onstage twenty feet in the air on a revolving drum set, and the dizzying effects of the incessant beats intensify.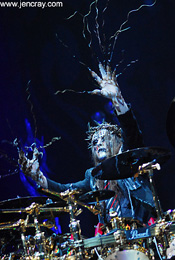 Front man Corey Taylor, for all his frightening appearance and guttural vocals, has a calming presence onstage – hardly needing to do more than suggest to the crowd that it's time to jump in order to get every pair of feet pouncing happily, as he did before launching into "Before I Forget," off Volume 3: The Subliminal Verses. It's a strong presence, a commanding one, that doesn't require all of the "motherfuckers" he slips into his stage banter. This audience was willingly in the palm of his dirty, grimy hand.
Because of the Halloween aspect of the band, it would be easy to dismiss them as a novelty act – were they not so skilled musically. The makeup scares off a lot of potential fans who might otherwise get their jollies with the otherwise straightforward speed metal, yet it's the makeup that will be remembered. Tapping into the creative genius of KISS, Slipknot have reignited the visual artform of a metal show being a special event.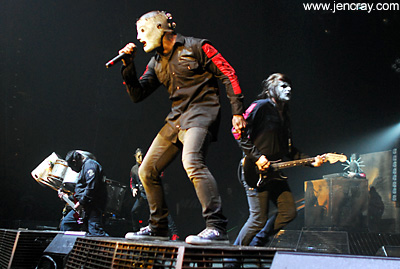 Few bands are willing take bold chances in music anymore and so, for that, I salute Slipknot.
To see more photos of this show, and others, go to [www.jencray.com](http://www.jencray.com/bands_live.htm).
Slipknot: http://www.slipknot1.com ◼
---