Flogging Molly
The Aggrolites, Dub Trio
House of Blues, Orlando FL • March 5, 2009
Carl F Gauze
There's a rule of thumb for House of Blues shows – if you're not there for the opening act, don't expect to get a good look at the headliner. That was true in spades for this shoulder-to-shoulder crowd. I stopped to get a bite on the way down and spent the evening slinking around sideways, hoping to see what the bands looked like. I settled for watching them on the 32-inch video monitors parsimoniously placed around the upstairs bar.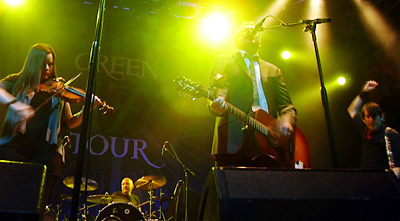 Opening the show was the oddly placed Dub Trio from Brooklyn, NY. The drummer and two guitarists made a tropical wall of noise with a touch of The Residents lurking in the background. It was possibly the least Celtic sound I've heard. Just as the set was about to end, one of the guitarists decided to tune his axe – a very inexpedient move. The audience remained amazingly polite and applauded quietly, then drank another Guinness.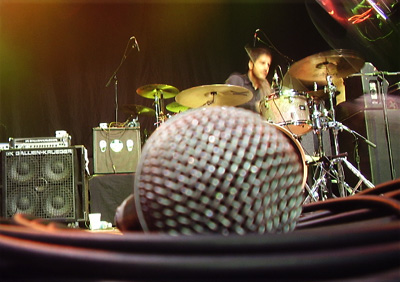 The next act made a better impression, but still lacked the soccer hooligan sound I was expecting. L.A.'s The Aggrolites play a bouncy white boy reggae / Rasta sound, and they got the crowd's attention. Two-tone hats made me think of The Specials, as did the clean arrangements and relatively sharp vocals. They wrapped up their set with bassist Nathan Maxwell, from Flogging Molly, joining them for what I'm pretty sure was "Soul Confusion," and left the crowd considerably more amped up than the first act.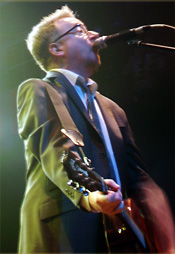 The curtain came down and there was the normal sort of clash and clank as The Aggrolites and Flogging Molly swapped setups. The audience practiced its football chants and then a Ramones track let us know it was time for some hot Celtic alt-rocking. The set list hit all the highlights, with the great singalong "The Worst Day Since Yesterday" and "You Won't Make A Fool Out Of Me" lighting off the best crowd reaction. Lead guitarist, and heart of the band, Dave King looked like a classic Irish bar bloke with his white shirt and high-water pants, squinting at us through some wire rims. Occasionally the bass player strapped on a long-necked banjo and beating on it like a Les Paul. After a while they slowed down, did a few up tempo ballads, and returned for a killer finish with "If Ever I Leave This World Alive" and "Lightning Storm." Occasionally, you could even hear the words over the crowd applause. This was a true fan's show, with the faithful all in attendance; they gave the band well-deserved praise and prayed to the light machine, then left in good order feeling both drained and fulfilled. Even if you never got a good look at the stage, you knew you had visited a holy place.
Flogging Molly: http://www.floggingmolly.com • The Aggrolites: http://www.aggroreggae.com • Dub Trio: http://www.dubtrio.com • House of Blues, Orlando: http://hob.com/venues/clubvenues/orlando ◼
---