Butch Walker
The Social, Orlando, Fl • March 29, 2009
Christopher Long
Downtown Orlando's ultra-cool, hip and trendy night spot The Social was filled to the gills with ultra cool, hip and trendy scenesters when pop music messiah Butch Walker returned for another sold-out "praise and worship" service on March 29th.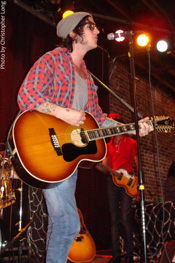 But the Orlando sell-out crowd was no accident. Since his days traveling cross-country in a van, playing beer joints with The Floyd's in the early and mid '90s, Butch Walker has built his base the old fashioned way – one fan at a time. And after more than 15 years his followers still display their loyalty to the now-internationally known singer/songwriter/producer. In fact, beautiful, young rockers in their teens and 20s, both male and female, wearing skinny jeans and donning fabulous, multi-colored hair-dos were already lining up outside of the club along Orange Avenue by 6 pm hoping to get a front pew view for the 10 pm "revival."
The music biz golden boy opened the show with "Going Back/Going Home" – apparently (judging by crowd response) a real fan favorite from his current record Sycamore Meadows. But then again, all of his tunes appeared to be crowd favorites – each one eliciting some type of audience sing-a-long. When the typical rock frontman sticks his mic into a crowd for a little old-fashioned audience participation it's often because he's too fat, bloated and/or winded to pull off the third chorus of the big VH1 smash hit. However, when Butch Walker turns his mic to the crowd (and walks away), the gesture takes on sort of Sunday-go-to-meeting vibe as his followers recite each word, chapter and verse from start to finish – not just the "wo-wo's," "hey-hey's" and "oh yeahs!"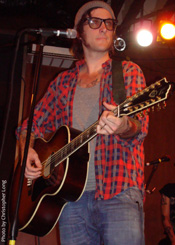 It's that genuine, personal connection between performer and audience that makes Butch Walker's performances so special. While introducing one of his newer selections, Walker apprised the audience of the new record and announced, "I don't care how you got it – as long as you got it." During his introduction of 2004's "Race Cars and Goth Rock," Walker told the crowd an intimate story of falling in love at age 17, shortly after settling in L.A. during the late '80s and the subsequent breakup. "I'm a survivor," he reflected.
In addition to such vintage tunes as "Far Away From Close," "Uncomfortably Numb" and "#1 Summer Jam," several slices of Sycamore Meadows also made it onto the set list including the video single "The Weight of Her," "Here Comes The… " and a rocked-out, full band version of "Closer to the Truth and Further From the Sky."
Walker kicked off his three-song encore with a remake of the 1970 hit "Tiny Dancer." Turning the Elton John classic into his own, Walker cleverly changed the lyrics in the final chorus to "Hold me closer, Tony Danza."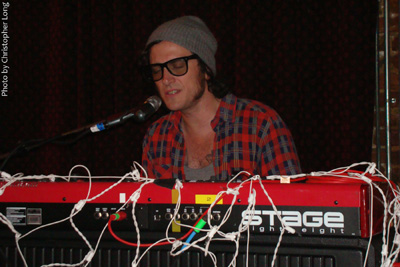 Like Moses parting the Red Sea, Walker waded through the crowd and climbed onto the bar to lead the faithful through an amazing version of 2006's "Hot Girls in Good Moods." And then, just when he couldn't take his people any higher – like a skilled preacher at the Baptist church in Anytown, USA – Walker brought his emotionally turbo-charged performance to a literal whisper, wrapping up with the softly spoken "When Canyons Ruled the City."
Yes folks, I've seen the past of rock and roll and its name is Butch Walker!
Butch Walker: http://www.butchwalker.com ◼
---