Kings of Leon
The Walkmen
UCF Arena, Orlando, Fl • May 5, 2009
Jen Cray
Prescribing to the less is more school of performing, Kings of Leon don't talk much onstage, they hardly smile, their stage is sparsely arranged, and – though out on their so-far-largest U.S. headlining tour – they play for just barely 90 minutes. When your songs are as great as theirs are – and when your band sounds as tight as a band of brothers (and their cousin) – you don't need to add any frills to your set to put on a successful rock show.

Doing their best not to get lost in the vastness of the UCF Arena's wide stage, The Walkmen swim inside of the blue lights that bathe them, languidly playing as though hardly aware that an audience is listening. Their posture is relaxed, as are their choice of songs, and the resulting effect sends chills down the spines of those who watch, enraptured.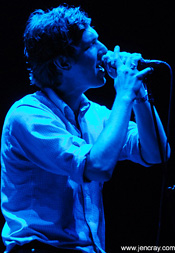 Coming out of the same NYC hipster scene that birthed The Strokes, these strapping young lads take a decidedly more worldly route into the indie corner of garage rock boulevard. Band members juggle multiple instruments – from bass to organ to the triangle – while vocalist Hamilton Leithauser funnels all of his energy into hypnotizing the audience into a state of midnight wooziness.
Beneath the band's pop melodies lies a depth of ambition popping up, at times, to add atmospheric flourishes that hint at a band looking to rise out of the limited world of indie rock and into something much greater. While not the flashiest of bands, The Walkmen's live show works largely because of their enviable ability to create an intimate sound even in such a sterile environment. Their most accessible, and biggest rocking song – "The Rat" – is thrown out like a treat to the fans who swayed and sang along throughout their opening set.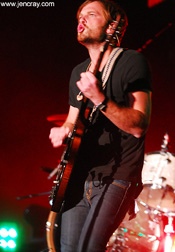 Though a good portion of the Orlando audience was clearly smitten by the NYC quintet, scores of empty seats and a bustling concession area reveal that most of the ticket holders had come to get their drunk on before settling in for the headliners. It was, of course, the 5th of May.
"We'd like to thank you for spending Cinco de Mayo with us," Kings of Leon's normally non-chatty front man Caleb Followill said during their set. "I'm sure there are lots of parties happening tonight, but we like to think that we throw a pretty good party ourselves."
If by "party" he means: offering up some of the best southern rock this side of The Allman Brothers, then yes! If he means: giving your guests the freedom to really let their hair down and declare their undying appreciation for the entertaining evening you've offered them, then perhaps he should have filled the band's security team in on the festive intent. Before the show had begun an excited fan had his tiny, homemade, Styrofoam sign forcefully confiscated by a straight-faced mountain of a man, a member of the band's team. This uncalled for scolding bummed out many fans down front who wondered to one another what had happened to the days of being allowed to toss beach balls, Frisbees, and – yes – even hold up signs declaring your love for the band onstage. Those days seem to have passed. Gone the way of lighters held aloft during love songs, and tour t-shirts priced under $30.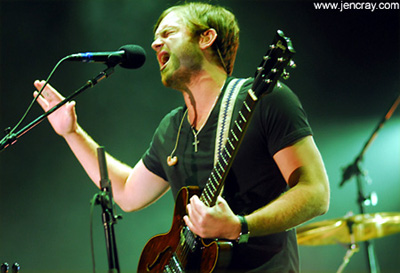 Moving past the security stronghold, the Kings' performance was more confident than ever. As well it should be. These guys have been selling out stadiums overseas for years, yet still most music fans in their home country have yet to catch on to their genius. Even a lot of the faces in the crowd were there merely out of curiosity, and hesitated to call themselves fans. "I saw them on the cover of Rolling Stone. They seem pretty cool," was a familiar phrase heard 'round the bleachers.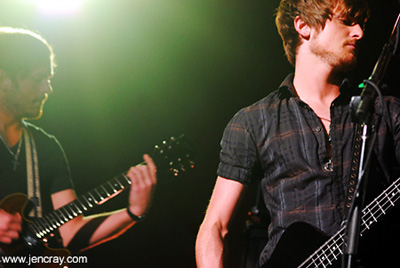 Whether fans already or fans-to-be, everyone in the place would be a fan by the end of the night. Opening up with "Crawl" and then plowing through a breathless set that places the band's biggest hit song to date – "Sex on Fire" – smack dab in the middle, the Followill family are in top form and effortlessly winning over every pair of ears in the room. Caleb's voice has strengthened like a vintage wine over the years on the road, and he appears healthier than ever, as does big brother Nathan who beats the skins relentlessly with his ever-calm face of concentration.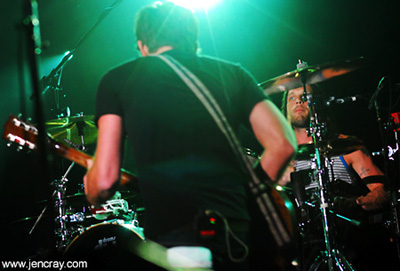 Virtually ignoring their monumental 2003 debut, save for one sweet moment early on that gave us "Molly's Chambers," the Tennessee men's attention lay heavily on their two most recent releases. Seasoned fans could grumble at the lack of booze-soaked "classic" Kings' songs, however, hearing "On Call," "Use Somebody," "Four Kicks," and "Black Thumbnail" makes it seem just plain greedy to complain about what they didn't play.
They left the stage all too soon, to a roar of good-natured disapproval from the fans, but soon returned for a four-song encore that wrapped up faster than you could say "another shot of tequila, please."
To see more photos from this show, and others, go to [www.jencray.com](http://www.jencray.com/bands_live.htm).
Kings of Leon: http://www.kingsofleon.com • The Walkmen: http://www.myspace.com/thewalkmen ◼
---